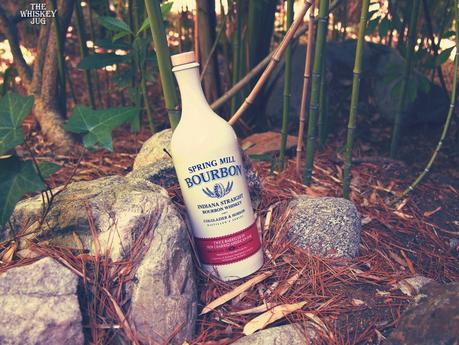 Spring Mill Bourbon, Indiana Straight Bourbon Whiskey, is "produced and bottled" in Indiana and is labeled as a "Twice Barreled" bourbon. To make this Twice Barreled bourbon they take some of their straight bourbon and move it into new charred oak casks so it gets the benefit of fresh char and virgin oak twice in its aging process. Not exactly sure why you need to do that, just make good whiskey from the start, but I'm less concerned about this gimmick and more about where it came from.
I'm always a bit weary of the term "Produced" when someone is talking about their whiskey. Produced could mean they actually did distill it, but it could also mean that they sourced it and then did their "twice barreling" and bottled it. Obviously curious about this I reached out to the company for more details, but they never replied so your guess is as good as mine… and mine is to always err on the side of sourcing.
Spring Mill Bourbon Review: Details and Tasting Notes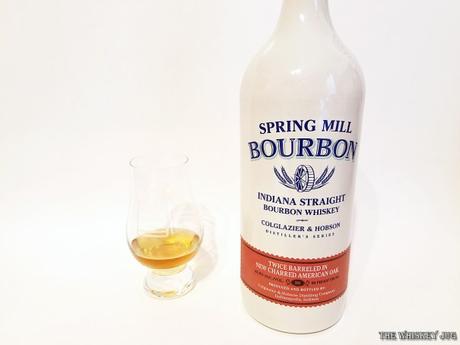 In Heartland Distiller's Words: Spring Mill Bourbon
"Produced and bottled by Heartland Distillers, Spring Mill Bourbon (Series 017) is twice barreled in new charred American oak for additional character and flavor. Bottled and dangerously drinkable at 90 proof, this straight bourbon is pleasantly sweet with notes of spicy rye, vanilla custard, brown sugar, sweet tea, and sweet corn. Notes of floral spices and a touch of citrus and wood shavings accompany the nose. Perfect neat, on the rocks, or accompanying your favorite bourbon inspired cocktail."
Spring Mill Bourbon price, ABV, age and other details
Region: Indiana, USA
Distiller: Colglazier & Hobson (Heartland Distillers)
Mash Bill: At least 51% Corn, Rye and Malted Barley
Cask: New Charred Oak
Age: NAS (4+ years)
ABV: 45%
Price: $18
Spring Mill Bourbon Tasting Notes
EYE
Hazy toffee
NOSE
Oak, char, vanilla, caramel, fruit, corn, cinnamon and a touch herbal.
PALATE
Corn, oak, toffee, cinnamon, vanilla, char and some cocoa and herbal notes.
FINISH
Short -> Corn, oak, vanilla, cocoa and olde candy.
BALANCE, BODY & FEEL
Ok, medium and a touch warm but semi-watery.
Spring Mill Bourbon Review – OVERALL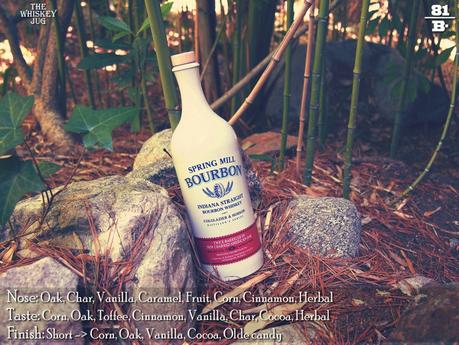 Spring Mill Bourbon is not a bad bourbon, but there's nothing exciting or standout about it except the sweet bottle and $18 price tag. Both of which me, and my wallet, are enjoying more than the actual whiskey itself. The aroma smells like a high-corn young whiskey with a bit of char and the palate hits similar notes with a bit more of an oaky presence. All-in-all… it's ok and I feel like the "twice barreled in new charred American oak" thing is a gimmick and waste of barrels more than anything else.
SCORE: 81/100 (B-)
Spring Mill Bourbon Review
Nose -

82

Palate -

81

Finish -

81

Balance, Body & Feel -

82
81.5
Spring Mill Bourbon Summary
Spring Mill Bourbon is more retro packaging and gimmick than it is substantial whiskey, but at $18 it's hard to get too mad at it.
Sending
User Review
0

(

0

votes)
Comments Rating
0

(

0

reviews)