Spring has sprung here at Family Cakes! That means Easter bunnies, fresh fruit, and splendid spring themed cupcakes. So far in my time here I have never been at a loss to see a beautiful cake. With Vincenzo working hard to put together some new fresh and delicious cakes I see something great almost every day. These are just one of the wonderful and vibrant creations that I have see this week.
Easter is just around the bend and while we have a playful little bunny cake that we offer, we felt we needed something with a bit more austerity, just as much decadence, and something that is as amazing to look at, as it is fantastic to eat. This is why we came out with the Easter Basket Cake.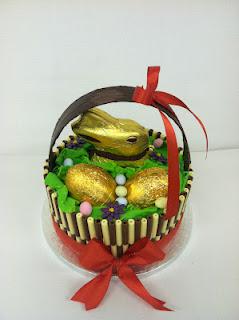 This Easter Basket cake is not only a work of art but it is one fine cake. Aside from the golden eggs and the chocolate bunny on top, the cake can be stuffed with an variety of fillings and choice of chocolate or vanilla sponge. So basically what I'm trying to say, is to not miss out on this cake. Its fun for all ages, as delicious as you want to make it, and we will deliver it to your door. I guarantee that you will not be disappointed.
This post isn't only about Easter however, here at Family Cakes like to simply celebrate the season as well. That is why Vincenzo put together this light and delicious cake for your viewing pleasure. Its topped with a variety of fresh fruits and just like the Easter Basket cake, you can add any variety of fillings. We recommend Italian style because it might give it just that extra bit of flavor that takes it to the next level.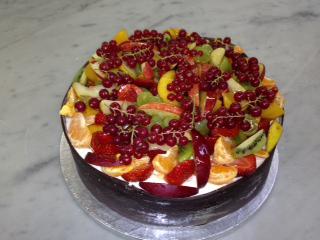 Finally, we offer beautiful spring and Easter themed cupcakes that are fun and tasty too. We have Easter Bunny Cupcakes, Sheep Cupcakes, Easter Egg Cupcakes, and Butterfly Cupcakes. All toped with your choice of icing color and with either chocolate or vanilla sponge.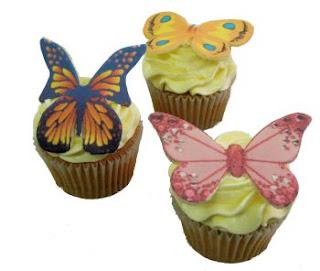 So whether you have a spring birthday, an affinity for butterflies, or maybe you just want to satisfy a sweet tooth, just order something today and you'll wonder why you didn't sooner.