As my cabbages have started to heart up, I've been trimming off the outer leaves to let more light and air into the plants.
To save throwing the leaves away, I decided to make soup from them. As they have been fully exposed to light, they are dark green, coarse and strongly flavoured. They also happen to be rich in folic acid, vitamin C and dietary fiber. Winner!
Serves 4
You will need:
10 large outer brassica leaves
1 medium onion
1 medium potato
1 vegetable stock cube
1 liter of water
A generous glug of milk
Salt and pepper to taste
Method
Roughly chop the onion, potato and brassica leaves and add to a large pan.
Add the water and stock cube, bring to the boil, and simmer for 20 minutes.
Blend until smooth, add the milk and serve.
Add salt and pepper to taste.
The finished product is a bit whiffy whilst cooking, and ends up a violent green colour, but trust me. It's delicious – and freezes well.

There you have it. Top notch, nutritious and above all… FREE… soup in just half an hour.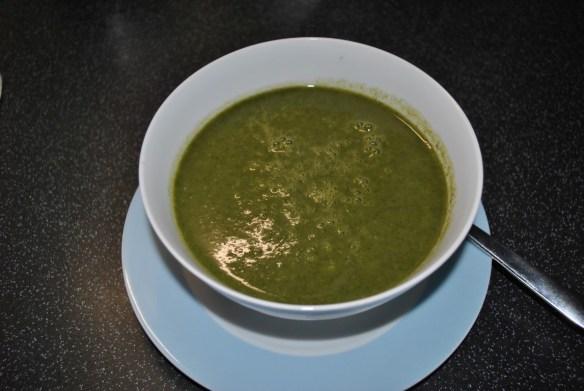 Spring green soup