Spring/Summer'12
Go over to A/wear and you will be struck with a wash of color and pattern. It's safe to say that the buyers over there have fully embraced the pastel, bright color blocking and floral trends this season. I have surprised myself these last couple of months actually, with a constant need to fill my wardrobe with color and florals - two things which have seemed alien to me for the past few years - so when I received a newsletter containing the best of their Spring/Summer dresses, I instantly fell in love.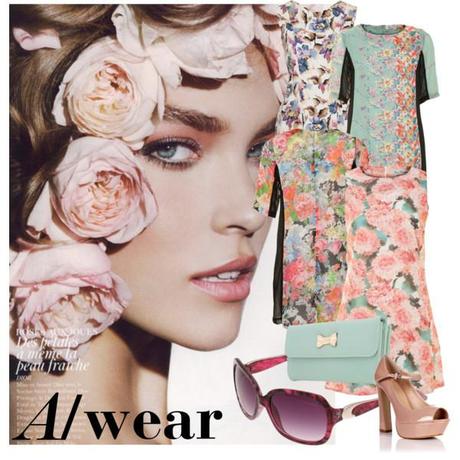 Image put together via Polyvore

As you can see from the image I've put together above, I decided on four dresses to feature alongside some printed sunnies, nude platform heels and a very cute mint purse with bow detailing. Clock wise from the top:
Water Colour Floral Print Shift Dress - £40
,
True Decadence Floral Panel Dress - £50
,
True Decadence Floral Panel Dress - £50
,
True Decadence Floral Slash Neck Dress - £45
,
Stitch Detail Popper Purse - £12
,
Purple Print Detail Sunglasses - £7
,
Nude Laura Dolly Peep Platform Heel - £45
Clicking the links above will take you to the A/wear website pages, where you will be able to purchase each item. Personally, I want to buy the entire website. If only I guess, eh?