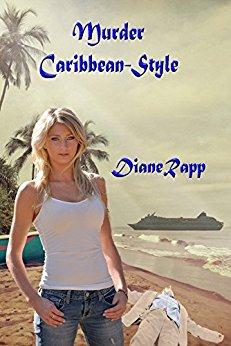 Get away from the early Spring wind, and unpredictable weather and head to the tropics for Murder Caribbean-Style! AND it's only 99 cents! https://amzn.to/2I1HGkC
A free cruise sounds like winning the lottery, but when your ex-lover dies in a mutiny you want to wake up from it all - safe in your bed.
Book summary:
 

When Kayla was denied a well-deserved promotion, she resigned. Kayla's shipboard friends applauded her bravery, but she knew the truth. Reeling from the painful humiliation inflicted by an unfaithful lover, Kayla welcomed an excuse to run home and hide. 




 
Plunging into a frenzied investigation to discover the killer before police arrest her friends,
Kayla bumps into Steven Young every time she uncovers a clue. They soon join forces to unravel the mystery and spark a fledgling romance. Like a tightrope walker balancing between passion and peril, Kayla risks her life to unearth the truth behind Patrick's death and free herself from his memory. 

Author Diane Rapp has written a variety of books: clean mysteries and clean science-fantasy. You can read about sentient wolves and space colonists, an English lady who whose journey leads her to Colorado in 1888 or you can hear about her upcoming mysteries with cute dogs as sidekicks. Here is the link to her website: http://www.quicksilvernovels.com/index.html