What's new in makeup for spring 2012? If you want to be in the know where cosmetics are concerned, you'll find out what's hot and what's not for this year.
Bright and Bold
The lips are where it's at for spring 2012, so add vibrant, bold lip colors to your collection if you want to fit in with what's trendy. Make sure you choose colors that work with your complexion. If you're fair, a deep rose or fuchsia will work nicely, while women with deeper skin tones can go with orange or even magenta. When wearing such dramatic colors on your lips, the trick to looking polished is to keep the rest of your makeup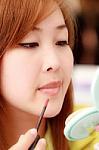 neutral, so no bright colors on the eyes or cheeks if your lips are your focal point.
Nudes
If bold and bright lipstick is too much for your style palette, you can always go nude. When opting for nude lip color, this doesn't mean choose a bland, boring shade like beige. It means select a color that closely mimics your natural lip color. A simple swipe with this light color, and a topping of clear gloss, creates a natural look that fits right in with spring.
Metallics
Metallics have long been a runway favorite on clothing, but now you can add some shine to your makeup. For spring, line your upper or lower eyelid with a metallic eyeliner in a complementary shade. Silver is a classic neutral, but should be balanced with a darker color so that you don't look washed out. Pump up brown eyes with metallics in green or gold, while blue-eyed girls can make their eyes stand out with a metallic liner in purple or charcoal.
No Mascara
While mascara is a staple in many women's cosmetic kits, this spring you may want to skip it if you want to follow the latest trends. Don't neglect your eyes completely, however. Skip mascara, but line your eyes with the aforementioned metallic liner or a more subtle liner in a color that contrasts with your eyes.
Hot Colors
Magenta is the hot color for spring, and it featured heavily on the runways, on everything from fingernails to models' lips. Another hot shade? Bright orange. Remember, when sporting such a hot hue, the rest of your makeup shouldn't clash with it, so keep everything else subtle and low-key.
While some looks are best left on the runway, you can adopt some of the trendiest looks when you do it in moderation. Take one sizzling color and play up one part of your face with it. Or apply your trendy trick with a light hand for daytime makeup, and punch it up for evening. That way, you look like you follow the trends instead of being a slave to them.
Nicole Rodgers has been blogging in the fashion, technology, and fitness industries for three years. Nicole made sure to pick up some new t-shirts for the summer season. Nicole also made sure to pick up accessories for spring as well. She got the latest nail colors, jewelry, and sunglasses for the summer season.
The Real Supermum
USA
[email protected]