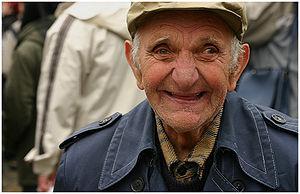 happiness (Photo credit: Wikipedia)
A slight shift in thinking today with happiness in this quote by John S. Bonnell who said,
"Not only is there a right to be happy, there is a duty to be happy. So much sadness exists in the world that we are all under obligation to contribute as much joy as lies within our powers."
Wow I like this.
What if it was our obligation, which Mr. Bonnell suggests? What if each of us took on the responsibility to contribute joy – what would a world look like if we all did that?
When you see someone a bit down you think or say to yourself, "Here's some joy to wrap around you – and you'll be better in a minute."
A child cries and you give them a smile and hug and rub some happiness into their skin.
A bank teller is annoying and you perk right up and say something encouraging or simply state, "Everything works out in the end – or it's not yet the end of it yet."
And no matter what anyone says to you at any time and in any mood you reply, "I wish you well."
By the way – what can anyone reply to that? When someone wishes them well? – it's ridiculous to reject it, or mock it or be anything but happy – and isn't that our theme?
Imagine if everyone was obligated to be happy – how much joy and prosperity that would spread?
Go ahead – I challenge you to make it your duty and call today – spread some happiness and joy!
You Create Your Day by the way You Think! Be Present!
Go make it a Magnificent Day!
Blessings, Shawna