Casual luxury? Not an oxymoron to Swiss luxury watch-maker Girard-Perregaux, which aims to bring a more everyday watch to the wrists of elegant women everywhere with the new addition to the Cat's Eye line of watches. The watches will feature a steel-case rather than traditional precious metals such as gold, but don't mistake this timepiece as anything but sophisticated.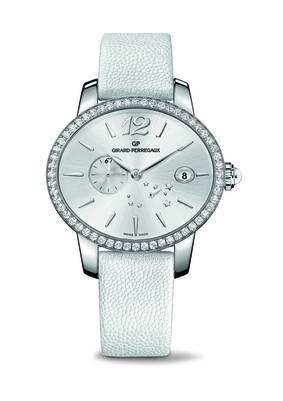 Picture courtest of departures-international.com
The new Girard-Perregaux Cat's Eye is a steel-cased addition to the line, but still boasts a diamond-studded bezel (56 diamonds for a total of 1.08 carats). The Cat's Eye has an oval-face, and will come with a beige or silver dial, complete with a matching, textured calfskin leather wristband. The steel case is likely to be larger than most women's watches, at 37.95mm wide by 32.95mm tall, but due to the oval shape it will still be quite feminine.
The designers at Girard-Perregaux hope the more downplayed luxury of the newest Cate's Eye watch will be more appealing to customers for casual wear, such as while shopping or running errands, rather than strictly for formal events.
Girard-Perregaux's history goes back to 1791, when Jean-Francois Bautte began making extra-slim watches, many for the royal of the day, including Queen Victoria. After forty years his son, Jacque Bautte, and Jean-Sanuel Rossel took over the business. Rossel would continue watchmaking alone, until succession by his son. Girard Perregaux truly began in 1852, when Constant Girard married Marie Perregaux, and the couple lent their names to the Girard-Perregaux manufacture.
Constant designed award-winning watches of such quality that one Tourbillion was actually removed from international competition for its dominance over other watches. In 1880 Girard-Perregaux manufactered 2000 wristwatches to be sold to German naval officers- one of the first cases of mass-production of wristwatches for sale. It wasn't until 1903 that Girard-Perregaux absorbed the storied Bautte company, and continued to make the finest watches available.
That innovation continues to this day with the Girard-Perregaux Cat's Eye line of watches, which when introduced in 2004, won "The Most Beautiful Women's Watch of the Year" in Tokyo. For a more casual watch that still speaks of luxury, look no further than the new Girard-Perregaux Cate's Eye.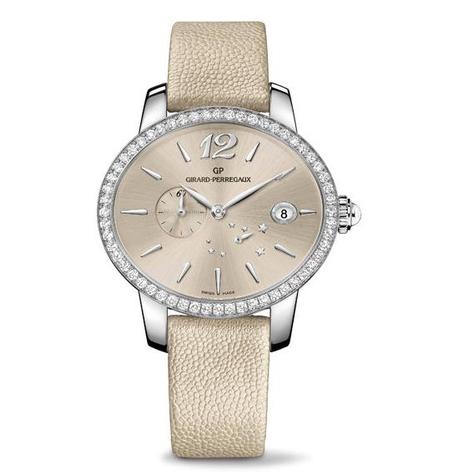 Picture courtesy of watchalyzer.com
Matthew H for Raymond Lee Jewelers, South Florida's premiere source for buying and selling luxury watches and designer jewelry.