In this age when so many celebrities feel entitled to starting their eponymous line, be it perfume, fashion, or jewelry, just by virtue of their fame, Sharon Khazzam is an anamoly. She had a dream – to design jewelry, and she realized that dream the old fashioned way. She studied. She worked under masters, and only when she felt she had mastered her craft did she venture out on her own, fueled by talent, refined skill. Sharon is the personification of meticulous and order.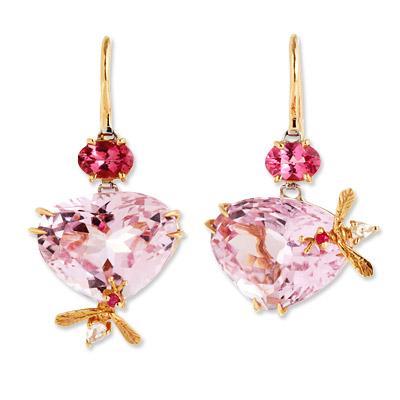 After earning her degree in jewelry design at New York's Fashion Institute of Technology, she apprenticed at Calvin French in France, thanks to Asprey, her first employer, who hired her to be their in-house designer. The master jewelers under whom she worked gave the classical training, that had been handed down to them, requiring her to put in time drawing and painting. And it paid off, she came back to New York to create the Sunflower Collection, the first of a long line of signature works.
Her success only made her realize if she was to stay on top of her game, she could never stop learning. She made time in her busy design schedule to study at the Gemological Institute of America, and to attend numerous workshops and lectures given by established jewelers. Ms Khazzam must know something about time management that most people don't, because during this period in her life, she also entered the storied Diamonds Today competition and came out the winner.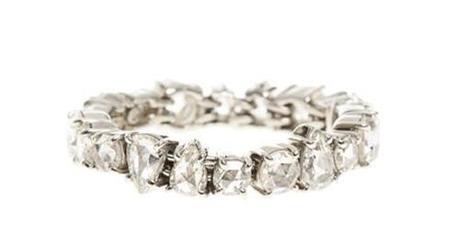 In 1993, a scant nineyears after her graduation from FIT, Sharon ventured out on her own with her Stitch collection for Asprey. Oh yes, she was also raising a family during this time! After another eight years spent consulting and designing for private clients, she unveiled the Sharon Khazzam Collection, pieces that reflected her personality – free-spirited and fun, yet glamorous, and elegant with a wink. But don't let her style mistake you into thinking she's left her systematic ways behind.
Should you purchase one of her hand-crafted, one of a kind designs, it will come a folder detailing everything you'd want to know about the piece she's entrusting to you, and if you happen to misplace this information, she's cared enough about it to number and catalog it in the archives of her New York studio.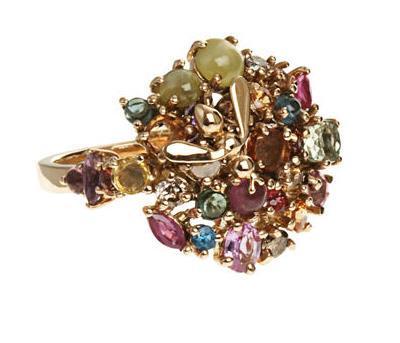 Sharon Khazzam Vicky Ring
If you are a devotee of Sharon Khazaam's designs, you're probably every bit as daring and colorful as they are , for she has a bold, confident, yet feminine woman in mind when she transforms her ideas into designs like the Satnum necklace, centered around a piece of white coral that suggests years of sand-erosion before being rescued to be wrapped in diamond seaweed and held together with twists of sapphire. And she sees you dancing round the fire in her Gypsy hoop earrings, bold and audacious – laden with sparkling gemstones and dazzling diamonds.
Designs like these bear witness that's she's still drawing and painting her ideas before bringing them to life.And her meticulous efforts have not gone unnoticed. She's been honored by the American Society of Jewelry Historians as their 2013 Member-at-Large.