Sandra Dini is an Italian jewelry designer who is based out of Florence, Italy and is known for making rings, bracelets, earrings, necklaces, pendants and brooches from gold and silver among other materials and containing a wide variety of colorful, precious stones. Her pieces and collections have sold well at stores like Barneys in New York City and some of the best known shops in and around Italy. However, one of the best places to find Sandra Dini's jewelry is in her studio in Pontassieve outside of Florence. The Tuscan countryside around her home and studio is undoubtedly an influence for her work, helping to connect the harmony and beauty in her work. Below are descriptions of some of her best pieces.
Rings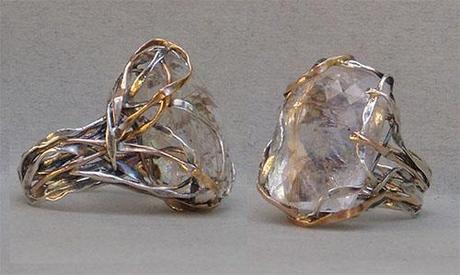 Sandra Dini silver rose gold and rultilated quartz cocktail ring (via Sandra Dini Facebook page)
 Sandra Dini jewelry pieces are elaborately constructed out of metal and various types of colorful and semi-precious stones. Many have designs in the metal on the outside of the ring, ranging from leaves and small screws on one, to a variety of intricate symbols that make these rings almost look like pieces of art from many centuries before. Pearls and turquoise are common stones that are used in Sandra Dini rings, though she uses a wide variety of stones in ever unique ring she makes.
Bracelets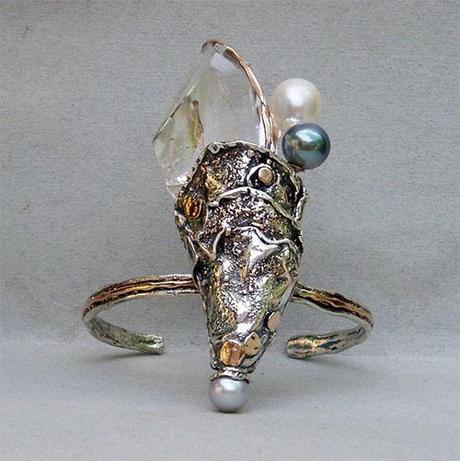 Bracciale Cornucopia cuff via Sandra Dini on Facebook
 Sandra Dini doesn't make that many bracelets but when she does they are almost always magnificent and unlike anything you have seen. Most grip the wrist and forearm in unique ways, ranging from wide metal cuffs to bracelets which spread out and wrap around the forearm and wrist at the same time. Intricate metalworking and pieces of metal like bent metal leaves are used for the bracelets, as are the colorful stones that are common in her wrings. However, it is the organically styled pieces of metal which make these bracelets look like they are part of the Earth which makes Sandra Dini bracelets so memorable.
Earrings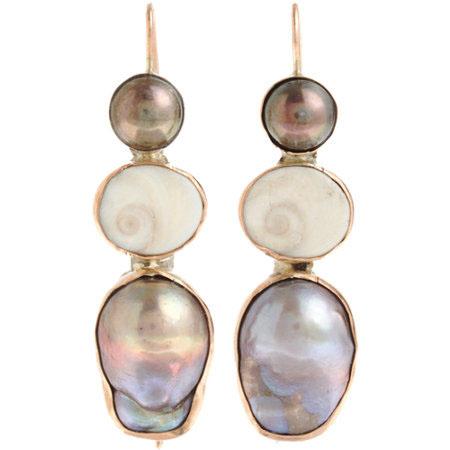 Sandra Dini Pearl and Shell Earrings in Rose Gold via Barneys ($725)
The earrings made by Sandra Dini almost always feature a large number of colorful stones, as is a running theme in all of her other jewelry. The metal working on the earrings is elaborate and organic in it's styling as it is with all the other jewelry she makes, though it's also delicate. Most of the earrings are relatively long and dangly as well and have a bit of weight to them, due to the fact that they are constructed with metal and various types of stones.
Necklaces and Pendants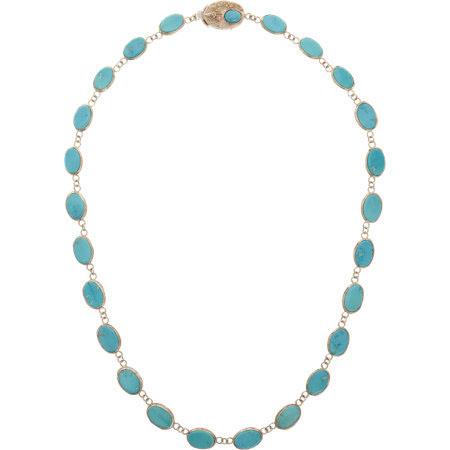 Sandra Dini turquoise Riviere necklace via Barney's ($2710)
The necklaces and pendants from Sandra Dini often feature specific stones and are less focused on the actual metal work around the stone. These stones include opals and pearls, copper and turquoise among others.
Brooches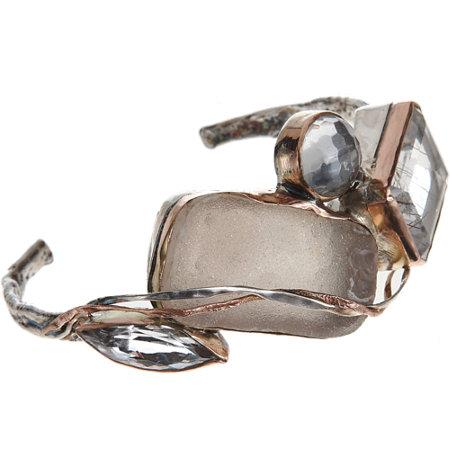 No, it's not a brooch, but how killer is this rutilated quartz and crystal cuff? $1075 at Barney's
Sandra Dini brooches range in size and design and may be the most different of all her jewelry. Some are all metal, like the ones that are just metal flowers, while others are made almost entirely of stone, like the unicorn brooch that has been carved into a blue piece of stone. However, there are not many other brooches made out there which are as unique or eclectic as those from Sandra Dini.