Swiss luxury watch maker Richard Mille is known for advanced engineering and precision in high quality timepieces. For the past two years, Richard Mille automatic cufflinks have been in the making. Technical designers have now captured the same watch movement concept of their timepieces into these extraordinary cufflinks. They became available in exclusive boutiques last October. The automatic cufflinks consist of at least 38 components that allow them to open and close with ease.
Rather than using a pivoting bar mechanism, the automatic cufflinks by Richard Mille have a mechanism that allows the bars to open with one press of the push pieces. A second press on the top plate closes them. This revolutionary technology in precision makes them the perfect pair of cufflinks to wear with a Richard Mille timepiece. They make the perfect gift for the man who has everything.
Each piece of these space-age cufflinks are made from grade 5 titanium. The titanium is bead-blasted, satin-brushed and beveled by hand to create an elegant finish of exceptional quality. Initially only available in titanium, a diamond version of the automatic cufflinks was set to follow.
These high-tech, high fashion cufflinks are just what is expected from the Richard Mille brand, who has been delivering exceptional time pieces for at least 11 years. The unique cufflinks follow in the progression of innovation on the heels of timepieces like the RM 022 Carbon limited-edition, the Le Mans Classic watch collection and the all-sapphire RM56.
Richard Mille Automatic Cufflinks in Elegant Satin Brushed Titanium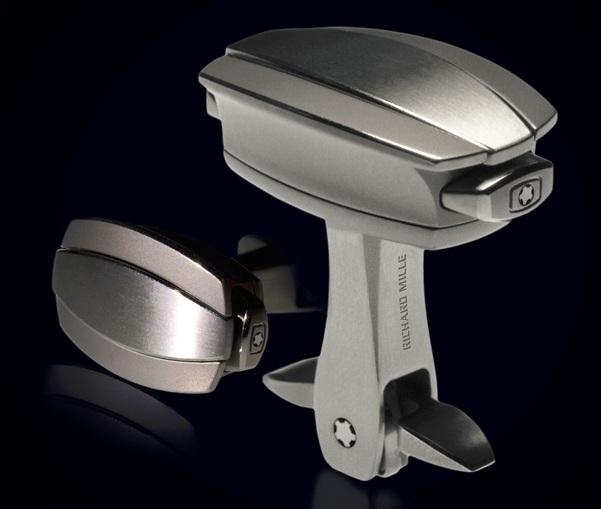 Richard Mille Automatic Cufflinks, Titanium and Diamond Version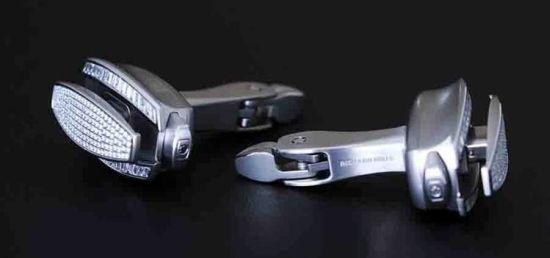 Rebecca M for Raymond Lee Jewelers, South Florida's premiere source for buying and selling luxury watches and designer jewelry.