Jewelry designer Monique Pean is arguably one of the most influential female jewelry designers out there. After the unexpected death of her younger sister, she passed up a career in finance to try and change the world through a variety of initiatives related to fashion, art and philanthropy. In 2006 she launched her own eco-friendly fine jewelry collection, debuting with the Bering Collection which was inspired by Alaskan Native art and culture. It feature fossilized wooly mammoth and walrus ivory, truly making the jewelry designed by Monique Pean one of a kind. In fact, it is what Monique Pean's pieces are most known for, their innovation and use of unique materials that no one has ever put into fine pieces of jewelry before.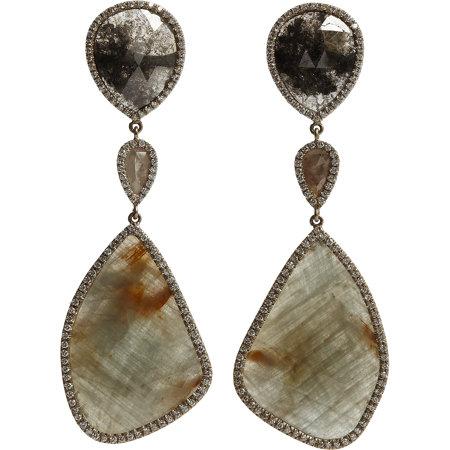 Monique Pean Opaque Grey diamond and sapphire earrings
 Nearly eight years after launching her jewelry line, Monique Pean has 14 different collections, all sustainable and exquisitely designed. Her work ranges across the gamut of jewelry, with earrings, rings, bengals, necklaces and a wide variety of different pins that can be put on different outfits for an added bit of elegant flair. Her work also ranges greatly in price. Some pieces are affordably under a thousand dollars, while other pieces like her black tourmaline and gold navette necklace with 18 karat recycled rose gold sells for a whopping $11,500. In other words, Monique Pean's work can be worn by just about everyone who appreciates fine jewelry, though most of it is on more of the expensive side.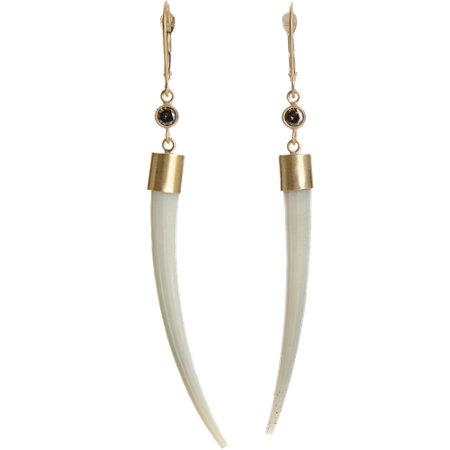 Mwanza Warthog Tusk Shell Drop Earrings
 However, much of this is due to the materials she uses. Monique Pean stives to make all of her jewelry from sustainable materials. For example, the 18 karat gold she uses is 100 percent recycled. The Buffalo Horns used for her work are all gathered through Fair Trade practices, as are the precious stones she puts into all of her jewelry. This especially goes for the diamonds which are all gathered from areas and dealers who have gotten them conflict and devastation free. They certify this by making sure all the diamonds are KPCS certified. They will also use repurposed diamonds and diamond slices in their jewelry which leaves less of an ecological footprint on the environment. This same sustainable practice is also done with all of the pearls that are in the Monique Pean jewelry.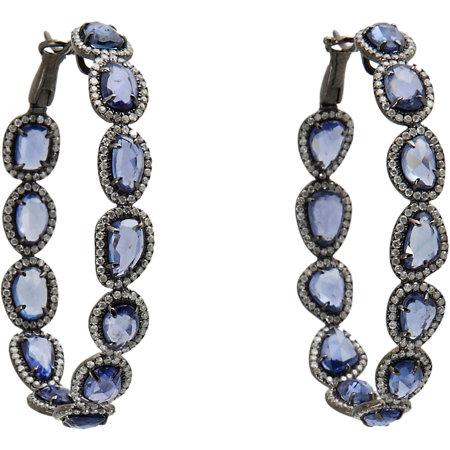 Diamond and Sapphire slice hoop earrings
Monique Pean is also only sold at select stores in select locations around the world. All Barney stores carry Monique Pean, so wherever there is a Barneys, some of these fine pieces of jewelry will probably be in stock. Ikram in Chicago also carries her work, as does the Jeffery locations in New York and Atlanta. Twist in Seattle and Portland to serve the Pacific Northwest and Susan in San Francisco, Marissa Collections in Naples and Alchemist in Miami. When it comes to international locations that sell Monique Pean, you'll be able to find her work in Canada, Hong Kong, Tokyo and Saudi Arabia. You can also find most Monique Pean jewelry online at the Barney's online store and at a number of other boutiques that sell her work and have online shopping capabilities.