The lovely purple amethyst is a symbol of the Age of Aquarius, and the birthstone of those born in February. The astrological sign of Aquarius coincides with this symbolism for those born in the beginning of February to the 19th of the month.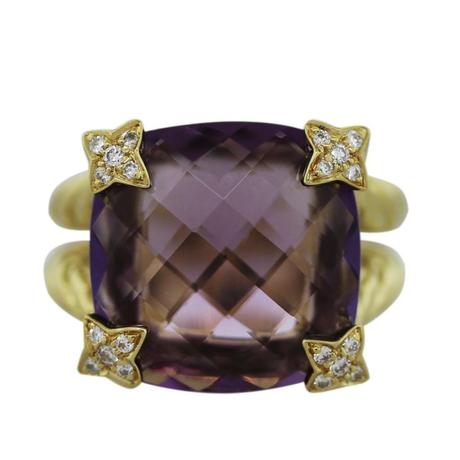 David Yurman Amethyst Quatrefoil Cushion Ring
Amethyst is a common mineral and widely used as gemstones for jewelry. It has a rich history as a valuable stone used for many purposes from warding off drunkenness (according to the ancient Greeks) to being using in meditation. Once equal in valuable to diamonds and rubies, the gemstone has gone down in value because of large amounts found in Brazil after the 18th century.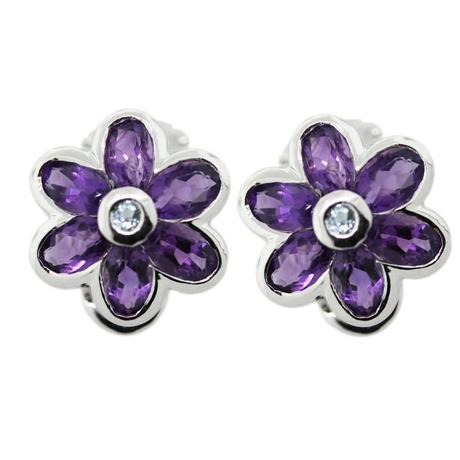 14k White Gold Amethyst Aquamarine Button Clip Earrings
Amethyst geodes form as types of quartz crystals that grow inside hollow volcanic rock. They form inside the open spaces in the rocks. Amethyst derives it's color from the dissolving of iron in its ferric state. Collectors look at depth of color for the most valuable pieces. The color hues range from light to dark and it is sometimes mixed with citrine. Light fades the gemstone.
In addition to the abundance mined in Brazil, amethyst can also be found in South Korea and in parts of India, Russia and North America. It is set for fashion jewelry as rings, necklaces, bracelets and earrings. Some collectors value it as being part of a rock and mineral collection.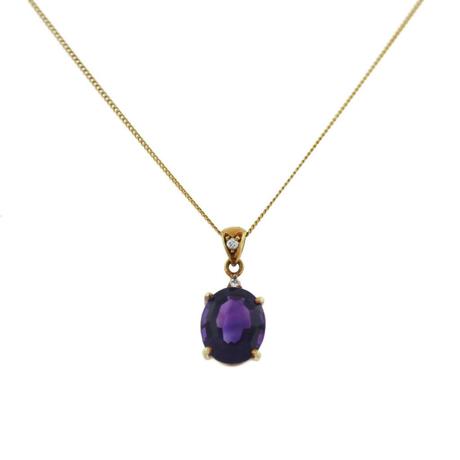 18k Yellow Gold Amethyst Diamond Pendant Chain Necklace
The amethyst is considered to be the Bishop's Stone and is worn by the Catholic priests of today. It is said to symbolize piety and spiritual wisdom. Some of the past uses were amulets worn by medieval European soldiers. They wore them during battle with the belief that they healed people and calmed them down. There have been beads of amethyst found in some graves in England where Anglo-Saxons were buried.
The ancient Egyptians wore them to guard against witchcraft.
Rebecca M for Raymond Lee Jewelers, South Florida's premiere source for buying and selling luxury watches and designer jewelry.