Bold, candy colored and exquisitely designed, Dina Mackney makes fashion-forward jewelry that speaks to the modern woman and her need for individual style. Originally creating works only for wholesale, this up and coming designer is now collaborating with Neiman Marcus to bring you a selection of some of the most fun and most fierce necklaces, rings and earrings in the accessories world. High end and high style, these pieces are begging for a chance to complement your next on-trend ensemble, whether it's for the average workday or a glamorous evening out.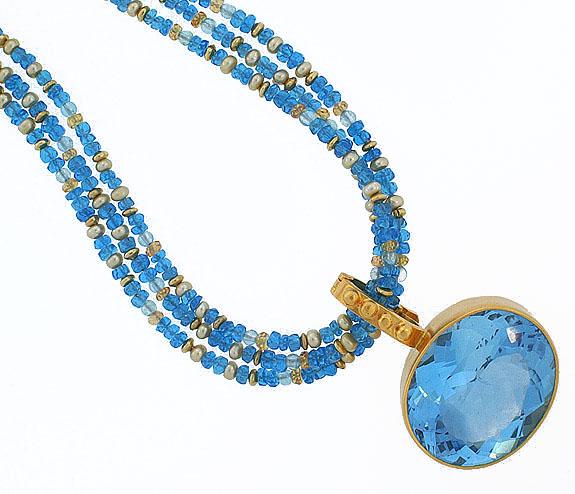 Vibrant blue topaz on necklace of mixed apatite, pearl, citrine and 18k gold vermeil
An Educated Start
Dina Mackney credits her still blossoming success with her education and her travels. A Texan at heart, Dina traveled through Europe, England and America, and living in Florence, London and Manhattan picking up global inspirations that taught her what women around the world were searching for: dramatic but wearable jewels. Her studies at The University of Virginia gave her a grounded education, while her time at the Parsons School of Design developed her natural creativity.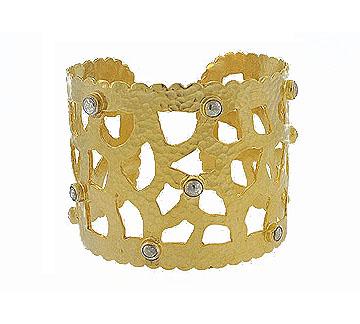 18k gold vermeil see-through cuff with sterling silver accents
Since featuring in magazines like InStyle and Conde Nast Traveler, Dina Mackney caters to the high expectations of celebrities and musicians, but she does so the same way she always has for every customer. An emphasis on craftsmanship, high quality materials and only the most stunning precious and semi precious stones ensures he star continues to rise.
Noteworthy Pieces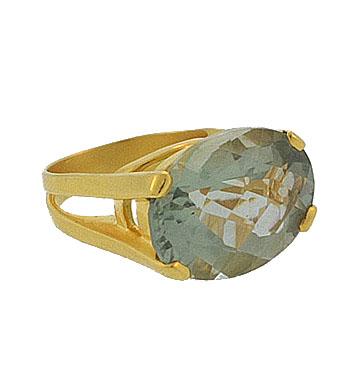 Oval ring: done in all semi precious stones in either sterling silver or 18k gold vermeil. shown, green amethyst and 18k
Though all of her fantastic items are enticing, some individual baubles are developing a notable following for their contemporary yet classic allure. The bezel-set pendants, with their oversized stones, are the most popular of the collection. But her original set of rings is the real winner. Soft, curvilinear lines, bulbous gems and geometric bands stand apart from similar designers.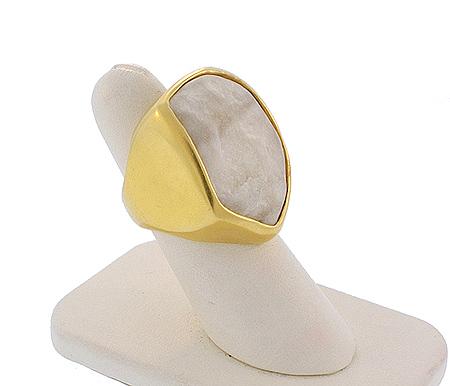 Dina Mackney is poised to become one of the most popular jewelers to the stars, with Kate Hudson and Grace Potter already established fans. Find your new favorite Dina Mackney accessory at a Neiman Marcus or Nordstrom today.