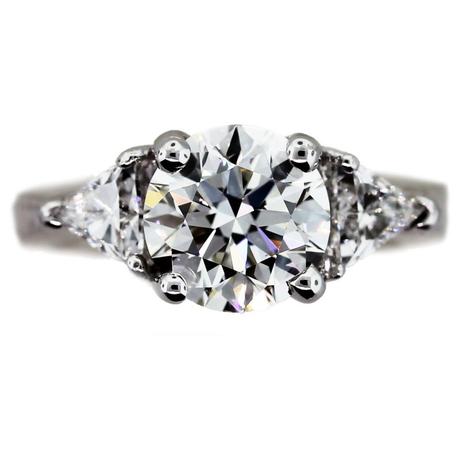 18K White Gold 1.69ct Round Brilliant Engagement Ring with GIA Report
What is a Candlelight Diamond?
A candlelight diamond is a special antique-cut diamond. It is a cross between an Old Mine Cut diamond and a Modern Oval Cut Diamond. The cut was popular from the latter part of the 19th century and into the beginning of the 20th century. The Mine Cut is deep and produces large facets. The result is a more subtle, softer romantic sparkle.
You may wonder why the candlelight diamond is named as such.
In the early 20th century, before the use of electric lights became widespread, the practice for proposing marriage was to pop the question over a romantic dinner. Soft music, wine and candlelight was the setting. After the meal was finished, the table cleared and another glass of wine was poured, the hopeful groom presented his chosen bride with a small box. She would open the box, say "yes", and the gentleman would place the ring on her finger. The diamond would dramatically catch the glow of the candlelight in the room, so much so that the surrounding diners would notice and glance the couple's way, smiling. Hence the name candlelight diamond.
The candlelight diamond is also referred to as a cushion or pillow-cut paved diamond. Either square or rectangular in shape, the rounded corners and sides give a cut that resembles a tiny cushion. In contrast to today's more bold, geometric cuts, the candlelight diamond whispers faintly of Old World grace and charm.
There has been a recent surge in reproducing the cushion cut in diamonds for engagement rings. Some say this can be attributed to jewelers who have been affected by a challenging economy. An impressive cushion cut diamond can be purchased more reasonably than some of the more fiery,brilliant cuts. Others say it is because of the softer romantic sparkle.
We tend to agree that it may be because of both reasons.
Rebecca M for Raymond Lee Jewelers, South Florida's premiere source for buying and selling luxury watches and designer jewelry.