butter LONDON has just released their Spring/Summer collection and it looks amazing! Here are the details...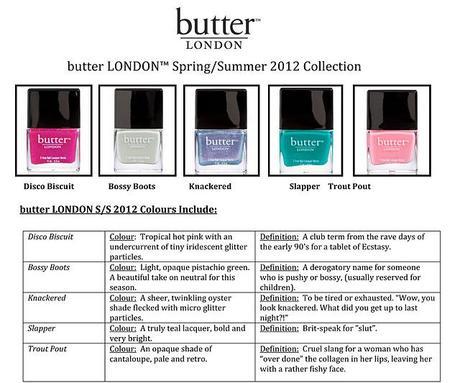 Price


These lovely lacquers from butter LONDON are priced at $14 per bottle retail.


Where to Buy


You can purchase these polishes directly from butter LONDON on their site HERE. 

 
First Impression


As I'm sure you've heard me say, I'm in love with so many of the colors this Spring/Summer in terms of beauty products! So much of it (especially the pink and turquoise) remind me of the late 80s/early 90s. I have to say, I'm really glad butter LONDON has stayed away from using heavy glitters in this collection. Some of them are gorgeous, but I'm very picky about my glitter-usage and with so many other companies incorporating glitter into their collections, it's nice to see some variety. Not that I'd be opposed to seeing some flakies from butter LONDON--those are always the exception to my glitter rule! ;)




I love that butter LONDON has found a way to mix vibrant and subdued shades into one collection. To me, no single color is so like another that you can justify leaving it out. Unbelievably, I don't have real favorites in this collection because I'd like to own them all! You know I have a weakness for pink polishes,

so Trout Pout and Disco Biscuit are musts for me. My favorite color happens to be green and I love any unique green polishes I can get my hands on, so Bossy Boots and Slapper are musts. And anything different with lots of dimension always calls to me, so Knackered must also be mine. See what I mean? I'm loving what I'm seeing of this collection so far! I'll definitely post my review/swatches once I have the opportunity to give these a try.
What do you think of this Spring/Summer 2012 collection from butter LONDON? How does it compare to some of the other collections being put out by other polish companies?