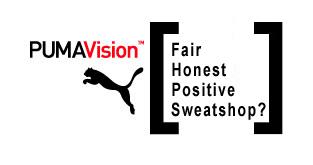 We like Puma gear, especially from a design perspective. We also like to know where stuff is made and if you look inside a pair of Puma shoes you may find they are Made in Cambodia.

Ten years ago an agreement was made where Cambodian factories were given preferential access to markets in return for guarantees about working conditions.
The International Labour Organisation (ILO) would make frequent factory visits to make sure workers were being treated well and paid a minimum wage which equates to $61 US dollars a month.
Everyone's a winner; jobs for Cambodia and cheap manufacturing labour costs for western brands.

Figures released this month state a total of more that 1,500 female workers have been involved in mass fainting incidents so far this year. The Cambodian Ministry of Labour said a variety of factors were involved, including "insecticides, smoke, high temperatures, stress and manual labour of lifting and storing".
The Huey Chuen factory where two of the 'mass fainting' incidents occurred was making shoes for Puma. The German sportswear brand commissioned an independent investigation and concluded that regulations had been broken.

"The breaches of these standards include excessive hours of work as well as multiple occupational health and safety violations," Puma said in a statement in June.

"At Puma we believe that our position as the creative leader in Sportslifestyle gives us the opportunity and responsibility to contribute to a better world for the generations to come."

Next time you're running or playing golf in a pair of Puma shoes spare a little thought for the Cambodian worker. Your nice new shiny Puma trainers are probably being made by a young female worker, enduring excessive hours, inhaling smoke and insecticides in a poorly ventilated factory where passing out is a an occupational hazard.

Sweatshop labour? You decide.
-------------------------------------------------