DJ Spooky, new administration promise an innovative year at the MET.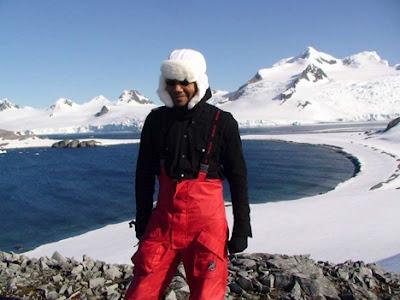 It's the climate--or maybe the pants. Paul "DJ Spooky" Miller in Antarctica.
He's the Metropolitan Museum of Art's new Artist-in-Residence.
The Metropolitan Museum of Art is one of the greatest arts exhibits in New York City. For next season, the museum is shaking off its staid image and rebranding its annual concerts and lectures offering as
Met Museum Presents
. 
The Museum has a new Director for its concerts and lectures: Limor Tomer, whose resume includes work at WQXR and the Whitney. To revitalize this program (which was under the aegis of the now-retired Hildje Limondjian for 41 years), Ms. Tomer has in turn enlisted Paul Miller, the decidedly "downtown" musician better known as DJ Spooky, That Subliminal Kid. Mr. Miller is the museum's first-ever Artist-in-Residence.
The programming for next season has its share of exciting intiatives, designed to bring concerts and performances out of the cavernous Grace Rainey Rodgers Auditorium and into the museum's actual exhibit spaces. The program offerings include: 

The Peony Pavilion:
 The so-called "Ming
Ring
" (blame the Lincoln Center press department for that one) gets a new score from Chinese composer Tan Dun, and a new stage in the Museum's Astor Court Chinese Scholar Garden. Although only 50 people will be able to attend each performance, a live simulcast to the Rodgers Auditorium will expand the opera's on-site audience.
The Met Reframed:
DJ Spooky's initiative this year seeks to combine turntablism, chamber music, and mixed media (including iPads and GPS) for an exciting series of concerts. Works on the schedule include
The Nauru Elegies
(examining the plight of that much-harvested South Pacific Island),
Of Water and Ice
which draws inspiration from the rapidly shrinking ice-cap of Antarctica, and an iPad Mixing Project to take place in the Museum's Great Hall.
The Endellion String Quartet:
Another cycle of the Beethoven String Quartets (following the 2011 appearances by the Pacifica Quartet) does not necessarily qualify as "innovative", but this young European ensemble should make these immortal works interesting. Six concerts over two weekends will encompass the entire cycle of quartets.
The Salomé Chamber Orchestra
This exciting young orchestra will offer a series of performances featuring Bach's
Brandenburg
concertos, a concert pairing the Four Seasons by Vivaldi with similar concertos from Astor Piazzola. All of these concerts will feature instruments from the Sau Wing Lam collection, which will promptly return to their display cases.
Additionally, the Museum will continue its partnership with the New York Philharmonic hosting new music concerts in the
CONTACT!
series. Other concerts include an appearance by jazz saxophonist Charles Lloyd, a Valentine's Day concert by Judy Collins, and a Mozart concert by the Salzburg Chamber Soloists.