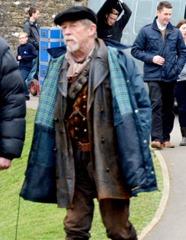 Let's be honest, how many people are surprised that this leak has happened?  One of the biggest mysteries and questions involving Doctor Who has again been answered ahead of time.  This is becoming a trend it seems, like with the finale to Series 7 being leaked/released early, and the departure of Matt Smith leaking and forcing the BBC to make an announcement.  Doctor Who secrets being leaked is becoming almost a guarantee.
The leak this time has come from Howard Burden, a costume designer who spoke to the Telegraph when The Prince of Wales and the Duchess of Cornwall visited the Doctor Who studios in Cardiff bay and met Matt Smith, Jenna Coleman, Steven Moffat, and some of the well-known monsters, including the Daleks.  Mr. Burden confirmed certain details pertaining to John Hurt's character in the upcoming 50th Anniversary Special.
Spoilers below.  DO NOT read further if you do not want to know, if you do what spoiled, just click "Show Spoilers" below.
…….
Show Spoilers
Burden told The Telegraph that Hurt will be playing a "dark Doctor" which will fit between the 8th and 9th Doctor.  He told the Telegraph:
There was a gap between Paul McGann playing the Doctor and Christopher Eccleston, when we didn't see a regeneration, and John Hurt will fit into that gap. He is a past Doctor, not a future Doctor.
As soon as pictures of John Hurt appeared online, rumors began circulating that suggested this because it appears that Hurt's costume is combining both McGann a's and Eccleston's look.
So what do you think about this leak and the story developments from it?  Are you still just as excited for the 50th now knowing this information?