If you need protecting from the weather, then a pop up canopy tent is the perfect answer. Whether you want to use it in the garden or want to take it to a function, there's no faster way to protect yourself and family and guarantee you won't get wet if it rains. They can be used to protect against rain, sun and wind and also easily portable so you can set one up almost anywhere you need to.
Many people take them to the beach, camping or for setting up in the garden if you're having a party. They add an extra room for people to gather, where they will be protected from the elements and still get fresh air. When you are finished with them, they fold away into a small bag and can be stored in a cupboard or garage until the next time you need it.
Main Pop Up Canopy Tent Benefits
We've just mentioned some of the main reasons why they are so popular, so here's a few more reasons why they are a great item to have.
Ease of Use - Most canopies can be set up in just minutes, so they can be used very quickly when the need comes. If friends or family come round unexpectedly, you can erect the canopy in minutes and everyone can enjoy themselves outside and be protected from the elements.
Portable - They typically can be folded away into a compact size and stored in a bag. This makes them really portable and can be taken anywhere you need it. Trip to the beach, going camping, sporting event, just take the pop up canopy with you and enjoy the day.
Durable - Whilst you can get very cheap models that are only built for temporary use, there are other affordable options that are very durable and last for years with constant use. In our pop up canopy tent reviews below, we show 3 of the best ones that are built to last.
Affordable - As just mentioned, you can pick these products up quite affordably and use them whenever required. The benefits of them far out way the small price tag.
Pop-Up Canopy Tent Reviews
There are a wide range available with different sizes, colors and styles. So choosing the right one for you might not be as simple as it sounds. To help, we have picked out 3 of the best pop up canopy tents currently for sale on Amazon.com and reviewed their main features below.
#3 - Quik Shade Commercial C100 10'x10′ Instant Canopy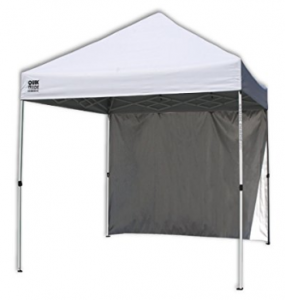 This is a large pop up tent canopy that is strong enough for commercial use. It has straight legs and will comfortably fit up to 12 people underneath. In fact, there's 100 square feet of total space under the canopy.
It is quite lightweight but also very sturdy. The frame comes in one piece, so it's really easy to put together. The canopy itself is made from 300D polyester fabric, which makes it water resistant and also 99% UV protected too, this keeps you dry in the rain and protects from the sunlight. The legs can even be adjusted to provide 3 different heights, depending on the situation you need.
It comes complete with everything you need, including a polyester bag to keep everything safe and together. Overall, this is a great canopy if you need a large space and want one built strong enough to last for years of use.
#2 - Quik Shade GO Hybrid Compact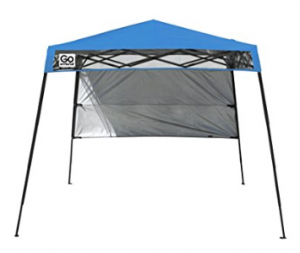 The Quik Shade GO Hybrid Compact is a slightly smaller size of 7 feet by 7 feet that provides 36 square feet of protection. Due to the slanted legs, the canopy itself measures 6 feet by 6 feet. It is very lightweight at just 14 pounds but also very sturdy in design too.
This product provides one height which at it's peak is 5 feet 10 inches. The canopy itself is made from a waterproof fabric. There's a half panel which attaches to one side of the frame, which is ideal to keep wind out and provide more protection underneath.
The whole thing stores away in an included backpack, making it really easy to transport wherever you need it.
This is an ideal canopy tent if you don't need one as large as the one above but still want to take advantage of all the benefits they provide.
#1 - AmazonBasics Pop-Up Canopy Tent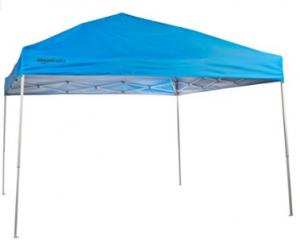 Our top choice is the AmazonBasics Pop-Up Canopy Tent. It offers a large 10 feet by 10 feet area with a cathedral style canopy roof, which provides even more headroom.
In total, there is 96 square feet of space under the canopy and the legs are slightly angled to provide further room. The canopy itself is waterproof and also 99% UV protected to keep out any harmful rays from the sun. The frame is really easy to put up and can be done in seconds. There are no loose parts to put together and everything folds up in one piece.
It comes complete with a bag which has wheels on the bottom for easy transportation. When folded down is around 5 feet in length, so easy to transport and store when not required.
Best Place To Buy Your Canopy From
When it comes to researching and buying anything these days, there's no better place than to start online. The internet just makes the whole process easier, you can find the right product faster and of course get them delivered right to your door. And it makes the whole process faster too, as you don't have to go down to your local stores any longer. Just sit at your computer and find the best deals possible without even leaving your home.
The biggest marketplace is of course Amazon.com and that's where we recommend you look for your canopy tent. They have a wide range available and make it easy for you to compare sizes, styles and prices. You can read the customer reviews to guarantee you make the right choice and their delivery service is excellent.
We hope this information has helped you and that you buy the best pop up canopy tent for your needs.