If you have ever been away camping and tried sleeping in a sleeping bag with no air bed, then you know just how uncomfortable that can be. And there's nothing worse than not getting a lot of sleep as it makes you grumpy and tired all the next day. So it's no wonder why sleeping pads are now becoming a necessity in all types of outdoor adventures.
Not only are they lightweight and easy to transport around but they provide so much comfort that almost guarantees a good nights sleep. You can now even buy self inflating sleeping pads, that you simply roll out and they will start to inflate themselves. You then just have to finish them off to get your ideal firmness by blowing into them and you're all set for the night.
Another great thing about the best self inflating sleeping pads is that they also provide a lot of warmth too. They have air channels and reflective layers that lock in heat and keep the pads warm. They are a huge improvement to the air bed style that you may have slept in as a child.
Here are some things to look out for when choosing which self inflating sleeping pad to buy.
Inflation Time - Whilst most of the best ones should inflate quite fast, it's always worth checking how fast the total inflation time is. This could be the difference between getting to sleep faster or waiting a long time to inflate your pad.
Thickness - Especially important when sleeping on an uneven surface is the thickness of the pad. Naturally the thicker the pad, the more comfort it should provide. But this will of course mean it will take up more storage when not in use, so worth baring that in mind. Typically, the most common pads are 1.5 to 2.5 inches thick when inflated.
Material & Strength - The last thing you would want to do is inflate your pad, lie on it and it bursts on a stone or sharp object. So it's important to look at what material is used to make it and how strong it holds up to being laid on uneven objects.
Overall Size - Like any bed, you need to make sure you will comfortably fit onto it. So check the total dimensions of the pad to make sure it is suitable for you. Some offer just one size, where as others have different sizes. So take note of it and make sure you'll fit when laid down flat.
Easy To Inflate - Most of the top ones have a simple valve that you turn and they automatically fill with air to inflate. These valves can vary in design and shape, so you should look at how easy they are to use and what they look like to make sure you will have no issues inflating them yourself.
Attached Pillow - When you go camping, the least amount of equipment you have to remember the better. So if you don't have to take a separate pillow then it's less to remember and also less to carry. Some pads have a built in pillow, which means you just have to remember your sleeping bag and you're good to go.
Self Inflating Sleeping Pad Reviews
There are many different brands, colors and sizes to choose from. So when it comes to picking the right one for you it can be awkward. To help you with this task, we have already reviewed the top ones on the market and we'll share with you our findings below.
#3 - Lightspeed Outdoors PVC-Free Warmth Series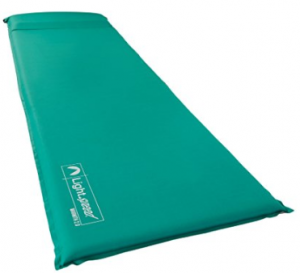 Coming in at #3 in our list is the Lightspeed Outdoors PVC-Free Warmth Series pad. It is available in 3 different sizes and thicknesses, allowing you to choose the exact fit you need.
It is a self inflating pad and will completely inflate in just 2 minutes with no pump required. The material it is made from is not PVC, which means it won't make a noise when you're lying on it and it also doesn't have that horrible plastic smell that other air beds can have. It has a built in pillow, so you won't need to remember your own and comes with an oversized carry bag, which makes it easy to fold away and to carry around.
To use it is really easy, just unfold it and open the valve. You can also add in more air by breathing into the valve if you want to have the pad firmer.
Overall, lightspeed self inflating sleeping pads are great quality and do exactly what they advertise.
#2 - Coleman Self-Inflating Camp Pad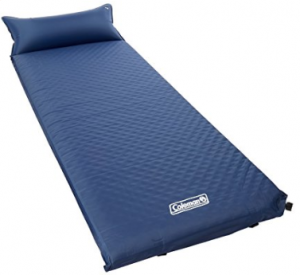 At #2 and coming from a world leader in making outdoor products is the Coleman Self-Inflating Camp Pad.
It comes in one size and will inflate and deflate easily using the free flow valve. There's a comfortable pillow attached to the pad, so again, you don't have to remember to bring your own from home. It is made more comfortable by having a tufted design and is waterproof and durable too.
There are compression straps allowing you to fold it away easy and to transport it around. The thickness is 2.5 inches when inflated, giving lots of comfort for a good nights sleep.
Overall, this pad is very affordable and comes from a manufacturer known for creating high quality outdoor activity products.
#1 - TNH Premium Self Inflating Sleeping Pad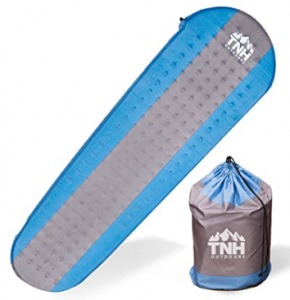 But our top choice is this TNH Premium Self Inflating Sleeping Pad which is proving to be very popular right now with campers and backpackers especially.
It has a 1.5 inch think self inflating pad, which provides plenty of comfort. There's a 75D polyester skin which makes it really strong and durable. So no worry about it getting a puncture at the worst time. It's easy to inflate, just open the valve and it will automatically fill with air in no time at all.
When you are packing up, simply fold it away and put it inside the included over sized bag. These bags are useful as it makes it easier and faster to get the pad into them.
Overall, this is what we consider to be the best self-inflating sleeping pad that is currently on the market and available to buy right now from Amazon.
To Sum Up
We hope the information we have shared and our self inflating sleeping pad reviews, will make your decision easier and you choose the right one for you. All these pads are available to buy right now from Amazon.com.