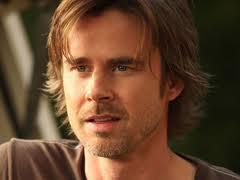 In Season 3 of True Blood, Sam Merlotte was left holding a gun to his brother's head. So what happens next? According to Sam Trammell, Tommy survives. However, he is not sure how yet:
"We still don't know whether I shot him or not. But he's definitely around."
Sam admits that the rest of his family will come back to haunt him this season, athough whether that is physcially or mentally, it is unsure.
There will also be a new love interest for Sam Merlotte. A lovely little shape-shifter, who goes by the name Luna (played by Janina Gavankar). She's part of a new community he meets. Trammell says we'll meet more like him this season.
The actor admits that he is a big fan of the novels by Charlaine Harris that inspired the series, True Blood. He finds her work "incredible" and says that he is always amazed at the popularity of both the books and the TV series.  He recently said after his experience with the massive fan base that turned up at Comic Con:
"You feel like you're The Rolling Stones or something walking out on that stage."
With only a short time before
Season 4
starts up, let's hope there are more leaks like this one to tide us over until June 26! 
Thanks to Jackie for this contribution.
Source: TV Fanatic – EXCLUSIVE: Sam Trammell Teases True Blood Love Interest, Family Haunting
(Photo Credit: HBO, Inc.)