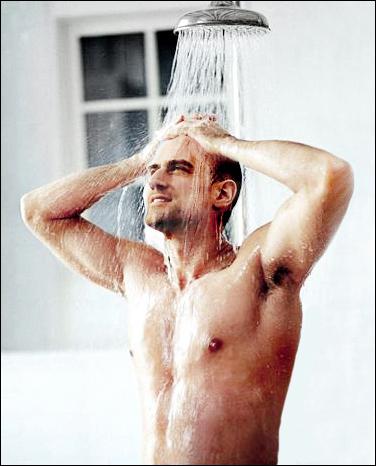 Better news could not have rocked my Wednesday morning/week/month.  I'm overjoyed, like a gay kid on Christmas who just received his first Judy Garland album, to hear that Christopher Meloni, the hunk from OZ and SVU, will be joining the True Blood cast as a regular in in Season 5.  I've loved Christopher Meloni, as apparently many queers have, since his frequent nudity and depiction of man-on-man love aired in HBO's series OZ.  In the 90s, you'll remember, "the world was a lot different… There was no Glee, men didn't kiss on camera, but Chris Meloni did."  He also played a doofy, but always sexy in cutoff jean shorts, camp chef in Wet Hot American Summer (alongside Paul Rudd and Janeane Garofalo.)
Alan Ball revealed that Meloni's character will be "an ancient, powerful vampire who holds the fate of Bill and Eric in his hands."  Awesome! I can't wait to see the strapping Meloni exude his impressive sexiness all over the screen.  I've missed him in the cast of SVU since he left.  The show is seriously lacking since the oft quick-tempered, Elliott Stabler's upper-hand is missing, but I couldn't be happier that he's joining the cast of True Blood.  The thought of his empirical comfortability with nudity for HBO is sending me into wild True Blood fantasies involving Bill and Eric… Fans can also wait, with bated breath I'm sure, for the new Superman movie to be released in 2013 that will feature Meloni.
Below is a tamed, YouTube version of some of Meloni's gay scenes from OZ. Racier ones can be found elsewhere.  ;)
Truebies, let's hear about how excited this news makes you in the comments section!
Sources: AroundtheNetworks.com, YouTube
Photo:  Quotesby.co.uk