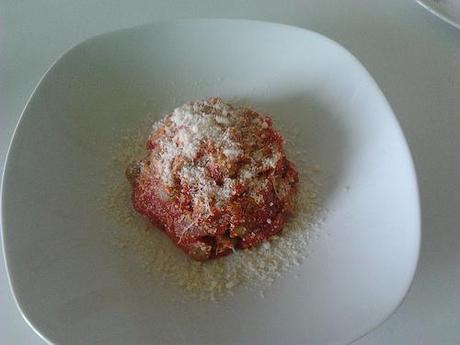 SOMETHING MORE SERIOUS, SPINACH GNOCCHETTI (CICCHE) WITH TOMATO SAUCE.
IT'S A PRETTY DISH, BUT VERY EASY TO COOK.
PUT GNOCCHETTI INSIDE THE POT WITH SALT HOT WATER.
IT'S VERY IMPORT THE SALT AND THE WATER AT 100°C, ONLY WITH THESE CONDITIONS YOU CAN PUT THE GNOCCHETTI INSIDE THE POT.
SO, TAKE ANOTHER POT AND PUT OIL AND ONION. FRY IT, UNTIL WHEN IT BECOME "GOLD". THEN PUT TOMATO SAUCE, LITTLE RED PEPPER AND CORRECT ACIDITY WITH SALT OR SUGAR.
REMOVE THE GNOCCHETTI FROM THE WATER, "JUMP" IT WITH TOMATO SAUCE.
COMPOSE YOUR DISH, I MADE A LITTLE IGLOO! hihihihi :)
ENJOY YOUR GNOCCHETTI
SEE YOU SOON! Fabusho!