I've only recently discovered the deliciousness of Feta cheese. Needless to say, I want to add it to everything now!
I was originally going to stuff it in chicken, but my supermarket had sold out!

 In a way, I'm glad. I don't use turkey very often, but it's a leaner, cheaper alternative to chicken… I must use it more!
This method is similar to my Black Pudding Stuffed Pork. What can I say… I like stuffing meat and wrapping it in more meat: the stuffing options are endless! Do you have any favorite combinations?
Next time, I'll use more spinach and wilt it first, so I can stuff more in (or maybe even buy tinned).
Here's what I did: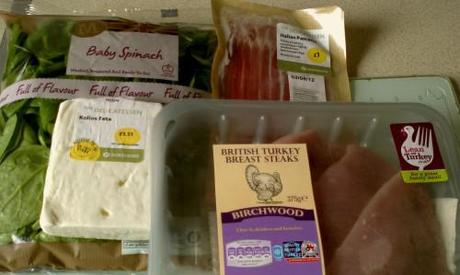 Ingredients (Served 3):
3 x turkey breast steaks
80g feta cheese, cut into tiny cubes
2 handfuls of baby spinach (next time I'll use 3 handfuls and wilt first)
9 slices of pancetta (if there's more in the pack, feel free to use them too)
If it were any other type of meat, I'd have flattened with a tenderiser first. Turkey breast steaks are flat enough to work with, without beating to a pulp.
First, I topped the turkey breast with spinach and feta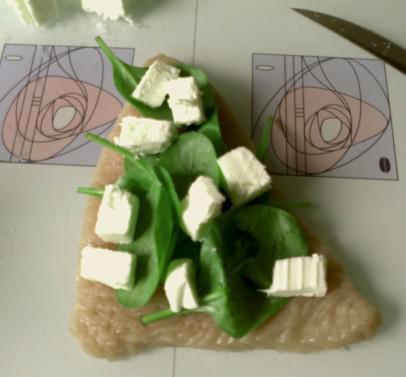 I rolled it up and wrapped the pancetta around it, sealing everything in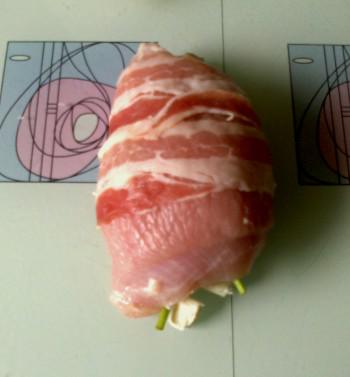 If you're worried about it all coming apart, you can wrap them in cling film and refrigerate for an hour (or the night before, if you so desire). Mine were fine and ready to be wrapped in foil (making a little chimney at the top).
I baked in a pre-heated oven (180 degrees) for 40 minutes. I opened the cling film at the top, half way through, to let the pancetta brown.
Et voilà! Easy as that. I served my spinach & feta turkey with roasted baby pearl potatoes and tenderstem broccoli. It was a sight to behold.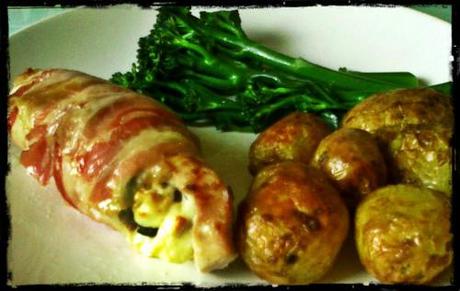 You don't even have to make a sauce to go with it - there's plenty of juices left in the cling film to pour over at the end.
My tastebuds approved. And so will yours… give it a try!
Enjoy

x