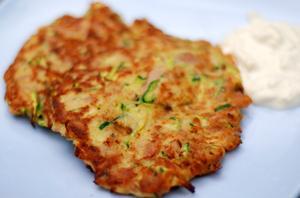 Low-carb breakfast options can be a bit of a challenge, especially for those just starting out on a low-carb diet.
This recipe is a slightly unusual take on lowcarb breakfast pancakes and a good way to jazz up tinned tuna. Nutritional value is great – only 2g net carbs per pancake. Tin of tuna is combined with grated courgette, eggs and coconut flour. Adding some spices is essential as it might be a bit bland otherwise!
Low-carb pancakes with tuna – Ingredients
Some of these ingredients are available from the low-carb shop on this website (delivery to the UK and Europe).
1 tin of tuna in olive oil – 115g (3oz)
You don't need to drain the oil – just add the whole tin as is
1 large grated courgette (aka zucchini) – 200g (7oz)
2 large eggs
20g (0.7oz) coconut flour
2 tsp dried chilli flakes or 1 whole fresh chilli, finely chopped
(this bit is important – recipe won't taste as nice without spices)
1/2 tsp salt
1/2 tsp black or red pepper
Optional: 1/8 tsp xanthan gum or 1 tbsp psyllium husks
These are optional, but would help to improve the texture of the pancakes.
Low-carb pancakes with tuna – Method
Flake tuna into small bits, add grated courgette and eggs and mix thoroughly
Combine coconut flour with spices and other dry ingredients and add to the tuna mixture
Mix everything together thoroughly
Leave to stand for 5 minutes or so – coconut flour will absorb moisture and make the mix more sticky
Heat a little bit of oil in a frying pan
Use a large spoon to add mixture to the pan (the amounts listed above make 6 large pancakes) and form flat round pancakes, aim for about 3-5mm thick.
Fry on a medium heat for about 5-7 minutes on each side, or until golden brown.
Low-carb pancakes with tuna – Nutritional value
Per 1 pancake (assuming 6 pancakes are made from amounts listed above):
88 calories, 2g net carbs, 7.5g protein, 4.3g fat.
Other posts which may be of interest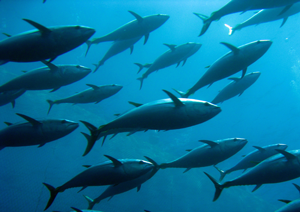 Includes infographic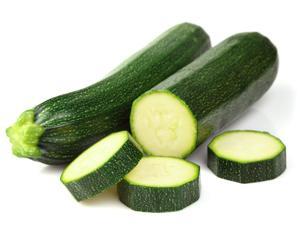 Share