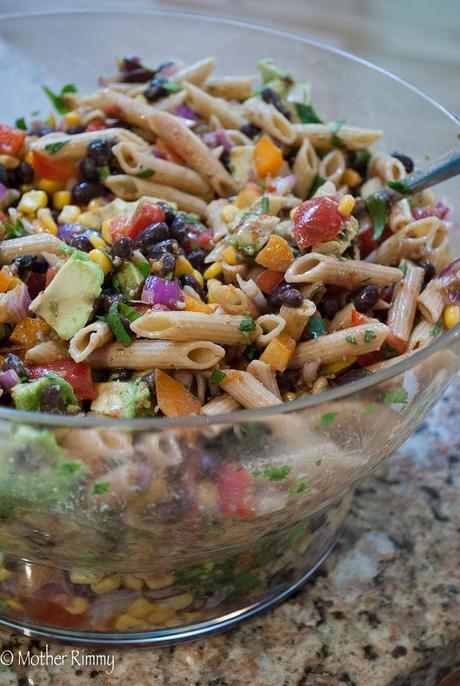 I've come to the conclusion that it's impossible to make a pasta salad that doesn't turn out to be enough for a crowd.
In this case it was a good thing, since it was my daughter's 29th birthday this weekend and I needed enough for a crowd. Wait – did I say 29? Where does the time go?
Since today is Cinco de Mayo is seems fitting to share this bright and zingy pasta salad with you. I'm hoping my timing isn't too late for you to whip up a batch to celebrate.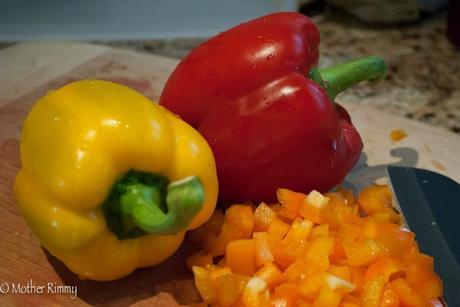 I was curious about this Mexican holiday, so I looked it up on History.com. According to the website, Cinco de Mayo "commemorates the Mexican army's 1862 victory over France at the Battle of Puebla during the Franco-Mexican War (1861-1867). A relatively minor holiday in Mexico, in the United States Cinco de Mayo has evolved into a celebration of Mexican culture and heritage . . ." Apparently this is more of an American celebration of the history and culture of Mexico, then it is a major holiday in Mexico.
Whatever the case may be, it's definitely a fun way to spend a Monday.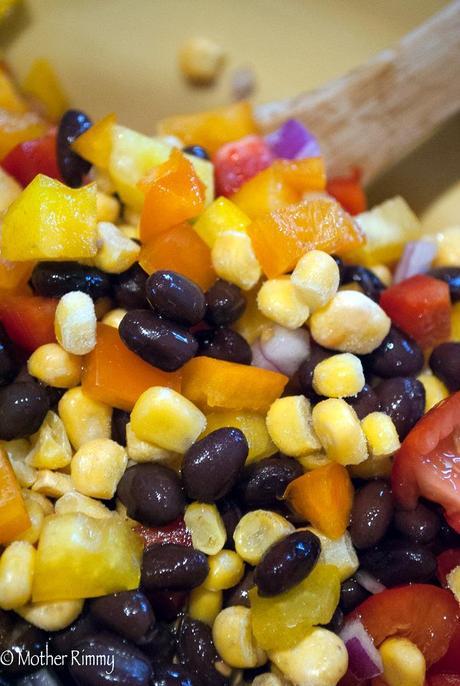 Don't be intimidated by the ingredient list. I realize it's a bit extensive, but it's all chop and drop. I had this salad ready to go in less than 30 minutes.
I think people enjoyed this pasta salad because it wasn't drowning in a heavy dressing. We served it with a light citrusy vinaigrette.  Add chunks of cheese if you like, but the salad really doesn't need it.
Enjoy and Happy Cinco de Mayo everyone!
~ Kristi
Print

Spicy Mexican Pasta Salad for a Crowd
Serving Size: 16 - 2 cup servings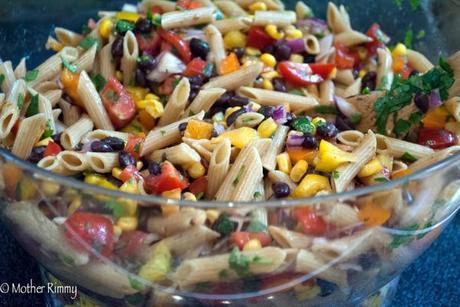 Shake It Up! Add small chunks of pepper jack cheese, green bell peppers would add some bite. If you aren't worried about calories, double the dressing for a creamier pasta dish.
Ingredients
2 small oranges, zested and juiced
2 small limes, zested and juiced
2 small lemons, zested and juiced
4 cloves garlic, minced
2 tablespoons Mexican seasoning
1 tablespoon honey
¼ cup grapeseed oil
1 pinch red pepper flakes
1 medium red onion, chopped
1 large red bell pepper, chopped
1 large yellow bell pepper, chopped
1 large orange bell pepper, chopped
2 cans black beans, rinsed and drained
12 ounces frozen corn
2 cups tomato , chopped
12 ounces whole grain penne pasta
3 medium avocado, chopped
1 bunch cilantro, chopped
Instructions
Combine orange, lemon and lime zest and juice in a jar with garlic, Mexican seasoning, honey, grape seed oil and red pepper flakes. Shake well.
Cook pasta according to box directions until al dente. Do not overcook pasta or it will become mushy.
Toss pasta with remaining vegetables EXCEPT avocado and cilantro.
If you will be serving this pasta salad later in the day, toss the pasta and vegetables with 1/2 the vinaigrette and chill. When it's time to serve, toss it with the rest of the dressing, and fold in the avocados and the cilantro.
If you will be serving it right away, toss in all the dressing, then fold in the avocado and the cilantro. Chill for 20 minutes and serve.
Notes
Food energy: 239kcal Weight Watchers PointsPlus 6 Saturated fatty acids: 1.19g Monounsaturated fatty acids: 3.39g Polyunsaturated fatty acids: 3.30g Total fat: 7.89g Calories from fat: 70 Cholesterol: 17mg Carbohydrate, by difference: 36.55g Total dietary fiber: 7.13g Protein: 7.06g Total lipid (fat): 8.75g Water: 163.73g Ash: 1.72g Total sugars: 6.79g Calcium: 47mg Iron: 2.07mg Magnesium: 45mg Phosphorus: 137mg Potassium: 529mg Sodium: 127mg
2.5http://motherrimmy.com/spicy-mexican-pasta-salad-crowd/Mother Rimmy�s Cooking Light Done Right by Kristin A. Rimkus is licensed under a Creative Commons Attribution-Noncommercial-No Derivative Works 3.0 United States License.
try { _402_Show(); } catch(e) {}