These super easy Mexican-inspired appetizers use Bisquick to get them on the table in no time flat. Served with a spicy martini they're perfect for a warm summer evening.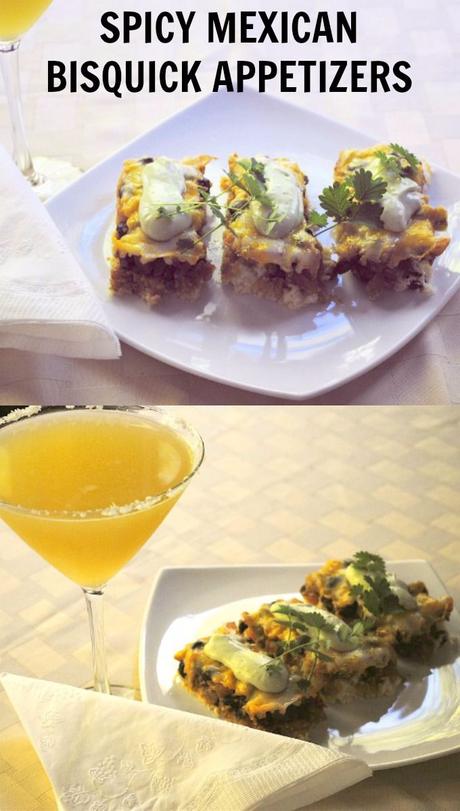 Yep. It's another Happy Hour Friday, and this week's appetizers and drinks aren't exactly on the light side, but definitely worth the calories.
Creamy black beans, spicy peppers, and sweet tomato are baked with cheese until hot and bubbly. Topped with cool avocado cream and colorful cilantro, they are perfection with a citrusy tequila martini.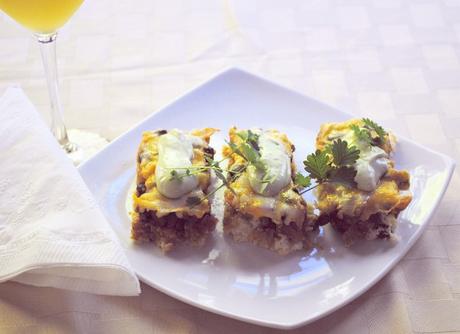 Spicy, refreshing and the perfect way to end the week.
Happy, Happy Hour Friday!

Save Recipe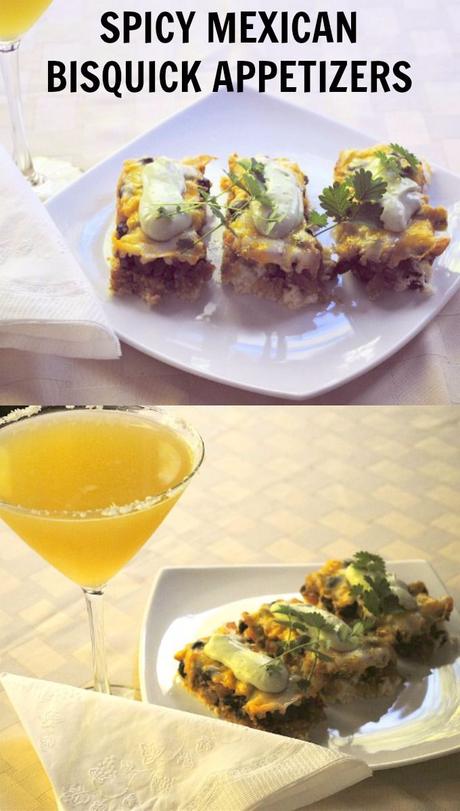 Ingredients
Instructions
Mexican Martini - Serves 1
Recipe from drinkmixers.com.
2 ounces Tequilia
1 ½ ounces Cointreau orange liqueur
1 ounces lime, juiced
2 ounces orange juice
2 ounces diet sprite
Coat the rim of a martini glass with salt.
Shake drink ingredients in a drink shaker with ice and pour into martini glass.
What's good for me in this dish?
Beans are an excellent source of antioxidants, folic acid, potassium, dietary fiber and complex carbohydrates. Filling and a great source of protein. Folic acid is important for the formation of red blood cells. Potassium is important for our nervous system and promotes a healthy heart rhythm. Fiber is important for digestive health.
Tomatoes provide a great source of vitamins C, A and K, not to mention the antioxidant and cancer preventing benefits of Lycopene. Tomatoes support colon and prostate health, and are a good source of potassium, niacin, vitamin B6, and folate to support a healthy heart.
Amount Per Serving for Mexican Bake
Calories: 135
Total Fat: 7.62g
Cholesterol: 10mg
Sodium: 871mg
Total Carbs: 9.65g
Dietary Fiber: 4.32g
Sugars: 1.95g
Protein: 19.00g
Weight Watchers Points 3
Amount per serving for Mexican Martini
Calories: 261
Total Fat: 0.08g
Cholesterol: -
Sodium: -
Total Carbs: 8.88g
Dietary Fiber: 0.91g
Sugars: 5.24g
Protein: 0.60g
Weight Watchers Points 5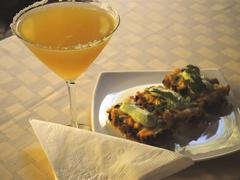 Mexican Bake