A few days ago, I was talking to some Co-blogger friends of mine related to cooking and some other food related topics. Then during the whole conversation one of my friend +Kalyani Momchef from "Sizzling Tastebuds" asked me about Apple Gourd recipe.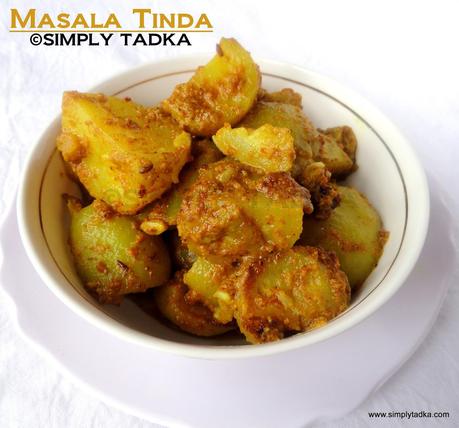 Today I post "Spicy Apple Gourd Curry or Masala Tinda Curry" for her. Under this recipe, we have to cook the tinda or apple gourd with spices and very special ingredient which my mom used i.e. cream or Malai. Cream made this recipe so creamy, and delicious more. You can serve this curry with chapatti and curd. I was to share Masala Tinda recipe for BM 31 under Main course theme. Hope everyone enjoy this recipe, please share your feedback with us under comment sections.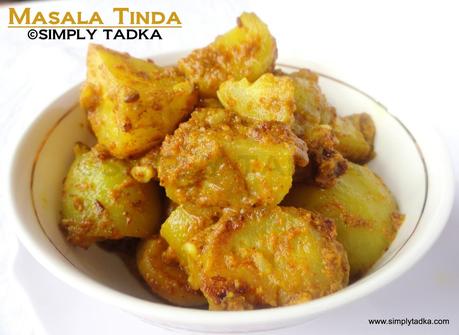 Preparation Time: 5 Minutes
Cooking Time: 12-15 Minutes
Servings: 3
Ingredients:
500gm Apple gourd/ Tinda
1/4 Cup Fresh Cream
1 Tbsp. Ghee
1 Tsp. Cumin seeds
Salt to Taste
1 Tsp. Red Chili Powder
2 Tsp. Coriander Powder
1/2 Tsp. Garam Masala
1/2 Tsp. Turmeric Powder
1/2 Tsp. Raw Mango Powder
1/2 Tsp. Lemon Juice, Optional
Instructions:
Wash and peel the apple gourd. Cut into four pieces.
Heat the ghee in pressure cooker. Add cumin seeds, when they start splutter.
Add chopped gourd, spices and cream. Mix well.
Cover with lid and cook till to 4-5 whistles.
Add garam masala and raw mango powder, mix well.
Serve hot apple gourd curry with chapatti.
Note
: If gourd is hard (pakka), then gives one-two whistles extra with extra water.
Enter your email address:
Delivered by
FeedBurner