Hey sweeties, another tasty soup recipe using all veggies from our garden!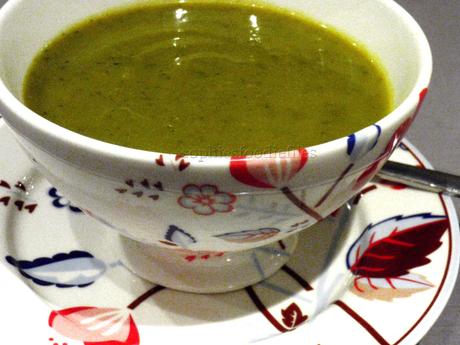 Recipe: For a whole lot of soup
Ingredients:
1 very large green courgette & 1 normal green one, cleaned, mushy interior & seeds removed, cut up into thicker chunks (about 1800 gr when cut up)
2 small white onions, peeled & finely chopped —- I only used 2 small onions because they are very pungent
1 leek, well washed, cleaned & cut up —- I only use 1 leek because the home-grown leek is very pungent & sharp in flavour
2 spring onions, cleaned, white & green parts used, chopped
1 small green chili pepper, cleaned, green flesh chopped & seeds kept to use into the soup
1300 ml of a hot vegan stock
pink salt in a grinder
black pepper
garam masala: 3 big dashes
ground Curcuma ( turmeric) :3 big dashes
a fruity extra virgin olive oil
Method:
Take a cook steaming pot with fitted lid. Pour some olive oil in it. Heat up on high. Now, add chopped onions, spring onions, leek & green chilli pepper pieces & seeds. Stir fry for about 10 minutes. Add chopped courgettes, garam masala & turmeric too. Stir everything round into the pan. Fry for about 5 minutes more. Add hot vegan stock & place fitted lid on.
Cook for 5 minutes or until the nozzle of the steamcooker makes a lot of noise & the pressure inside is too high! Then, turn heat off & carefully with oven gloves on, set the steam free until there is no steam left. Then, check seasoning. I added some black pepper extra. Mix the soup until smooth! Enjoy! A kicking soup!