Last week, Minnesotans were treated to a day in the 50s. Please don't make me tell you what it's like outside right now.  Tears will flow.  
Anyway, I was in the mood for some pulled pork and coleslaw. I took to Pinterest for coleslaw inspiration, and stumbled upon this recipe that used greek yogurt instead of mayo as the base for the dressing.  Greek yogurt is packed with protein and insanely good for you, so I wanted to give it a try!
Broccoli Slaw With Yogurt Dressing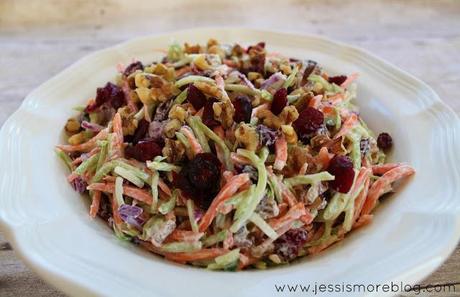 Ingredients

1 12-ounce bag broccoli slaw mix

1/2 cup shredded carrots

1 cup non-fat Greek yogurt (1 small container chobani) 

2 tbsp mayonnaise

2 tablespoons white wine vinegar

1 tbsp dijon mustard

1 tablespoon fresh lemon juice

1 teaspoon grated garlic

salt + pepper 

1/4 cup dried cranberries 

1/4 cup chopped walnuts 
Directions

Combine broccoli slaw, carrots, cranberries, and walnuts in a large bowl. Whisk together yogurt, mayo, vinegar, mustard, lemon juice, garlic, salt and pepper.
**taste it before you mix it**
Add dressing to slaw.
Toss to evenly coat.


FYI - greek yogurt is pretty tart, and is an acquired taste.  

I found that this slaw was much better on the day-of, fresh.  

The leftovers got pretty soggy, so I recommend eating it right away.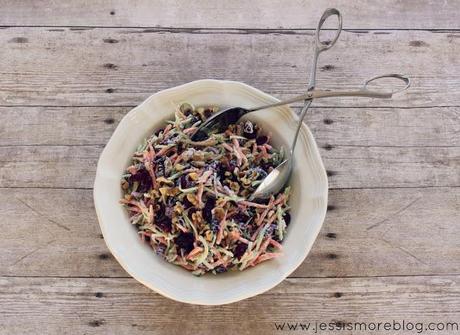 Enjoy! Linking up below!