Ah
, the scourge of the average golfer - elbow, knee, mid and lower back pains that never seem to go away flaring up during rounds with your foursome. What can sports enthusiasts do to keep their golf game in play in the face of bodily pain?
Although many folks scoff at the thought that golf is a "physical" sport, consider
Tiger Woods
who has been in the news since 2009 with physical ailments from ACL (anterior cruciate ligament) reconstructive surgery to back spasms which caused him to excuse himself mid-tournament.
After hobbling off the golf course at The
Farmers Insurance Open
, the former number-one player in the world was quoted as saying,
"...my glutes shut off and then they don't activate and, hence, it goes into my lower back."
Considering professional golfers like Woods keep their bodies in motion by exercising or by practicing their efficiently mastered swings on a regular basis, the average golfer has a better probability of confronting physical ailments than the pros, opening themselves up to greater susceptibility to injury.
Poor technique, lack of warm-up/conditioning or body strengthening all contribute to a weakened system. When impacted over the long term, stretching just isn't an option anymore.
Of course you can always give up the game but, if you're like most of us golf fanatics, that's
not
an option. So what can you do?
If you have gone beyond the threshold of light pain management and the Advil or Aleve just isn't working for you anymore - it might be time to consider
physical therapy
as an option.
Below we list a few of the
latest advancements in physical and rehabilitative therapy
which will make you believe...
"However far modern science and technics have fallen short of their inherent possibilities, they have taught mankind at least one lesson: Nothing is impossible."
Lewis Mumford, Technics and Civilization, 1934.
Have you ever heard of CAREN?
One of the latest advancements in science, CAREN (Computer Assisted Rehabilitation Environment) is a virtual reality system which treats and rehabilitates people with walking, back pain, posture, balance, spinal stability and motor control issues.
Described as feeling as if you are in a Star-Trek holodeck, CAREN boldly goes where no therapy has gone before.
This breakthrough in science comes complete with 360 degree cameras and a force plate which measures your movements as you immerse yourself in a virtual world of exercise and games designed to offer live feedback to help understand, and improve, your performance.
Extracorporeal Shockwave Therapy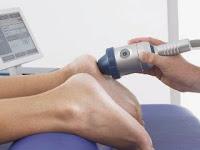 An FDA approved treatment for neuromuscular disorders, this non-invasive treatment accelerates the healing process via high pressure sound waves.
Especially useful for chronic plantar fasciitis, more commonly known as that bane for golfers -heel pain, EPAT or ESWT treatment goes beyond exercise by stimulating the cells to produce cytokines and chemokines which helps the body to produce mast cells and collagen and repair tissue structure to the area. As yoga master Pam Werner aptly stated, "our feet are our body's foundation as well as the tools of our mobility."
Alter-G Antigravity Treadmill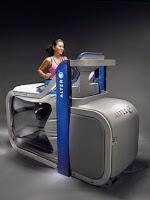 Rehabilitation should not be a chore but instead, should be something looked forward to, in anticipation of getting back out onto the fairways with renewed passion! Adapted from NASA astronauts training in a reduced gravity environment, Alter-G is not your average gym treadmill!
Air pressure encloses the user in a "bubble" to simulate lower gravity allowing rehabilitating athletes to run for longer stretches without impacting the body which is especially important for knee, hip or joint sufferers. Among the beneficiaries of the Alter-G Antigravity Treadmill are members of the LA Lakers, Olympic athletes, long distance runners.
Scientific advancements like CAREN may not give you superpowers but should help you relieve your aches and pains so you can continue to enjoy the fairways of life.
What types of physical therapy treatment do you currently use to help keep you on the golf course? Do you have questions about physical therapy?
Ask the experts
where we learned about these new technologies - New York Dynamic Neuromuscular Rehabilitation and Physical Therapy. Reach them on their website:
http://nydnrehab.com
/.
NYDNRehab on Google Plus
NYDNRehab on Facebook
Dr. Lev Kalika revolutionized how back pain and other motor disorders are treated by introducing Dynamic Neuromuscular Stabilization (DNS) at his New York City's Bryant Park practice.
Let us know how you manage your pain on Twitter @
Golf4Beginners
and on this
Golf for Beginners blog
.