Fasten your seatbelts, gentle readers. We're blasting off for another wacky Saturday blog, looking to achieve escape velocity and set a redoubtable course for the final (imaginative) frontier...
s

p

a

c

e
is the poetical place.
As an English boy in the 1960s I was quite thrilled by the record-breaking heroics of the early Soviet cosmonauts. I suppose I might have taken a different view if I'd been born an all-American kid.
Yuri Gagarin (aboard Vostok 1) was the first man ever to go into space, a feat he achieved in April 1961 nearly a year ahead of his US counterparts. A hero of the Soviet Union (and a man with a serious drink problem), Gagarin died in a terrestrial test-flying accident later in the decade. Valentina Tereshkova was the first woman ever to go into space (aboard Vostok 6) in June 1963. In fact she remains the only woman to have undertaken a solo space flight. A heroine of the Soviet Union, she is still alive and in 2013 (aged 76) volunteered to go on a one-way mission to Mars should it happen in her lifetime. What a girl. What an ambassador for gender equality.
When I was working in Russia a few years ago I tried to visit Star City (Zvyozdny Gorodok), home of the Yuri Gagarin Training Centre for aspiring cosmonauts (recently demilitarised though still not on many maps); as it turned out, a bit of a bleak adventure into a retro-Soviet hinterland, at odds - not unsurprisingly - both with all the romanticising propaganda that surrounded the space race of the 1960s and also with the emerging post-glasnost/perestroika Russia.
As we race headlong into another festive season of Christmas and New Year I thought I'd illustrate today's blog with a couple of classic retro Russian seasonal greetings cards. I particularly like this one of Santa with Christmas tree in a spaceship (note his magical qualities mean he doesn't need a helmet). To nativity and beyond...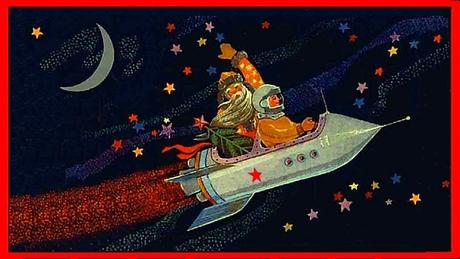 Soviet-style 1960s Santa
It's a curious but not unpleasing paradox (at least it seems so to me) that as we have voyaged deeper into the atomic age and as our scientists made more and more astounding discoveries about the true nature of the omniverse, we have clung to our basic tendency as human beings to mythologise, to incorporate hard science (jet propulsion, space travel) into our fondest make-believe. When peace on earth and goodwill to all men seem as far out of reach in the 21st century as they have ever done (despite all of the technological progress we have made as a species), it is mildly reassuring at least that the ideal lives on in cultural and political initiatives (and Russian Christmas cards and Disney animations).
"War is over if you want it!" (Lennon/Ono, Christmas 1971).
It was on this day (8th December) in 1980 that we woke to the sad and shocking news that John Lennon had been shot dead in New York City. Crazy, crazy - animals with guns. I watched a documentary about him and the making of his '
Imagine
' album on tv the other week and it feels only appropriate to borrow one of his lines as the title to this strange new poem, informed by my weekly musings.
Above Us Only Sky
No good news from earth today:
it's grown nor kinder nor lovelier
in five decades
since we blasted away from Baikonur
in the gray October of our borning.
Wars rage, bombs away,
cold-eyed career politicians plot and lie,
fat cats dynastically toy their prey,
all manner of plunder (gold, oil, gas) is fair play,
a skinny underclass still slaves for fags and beer,
the spark of idealism faded from their eyes
and apparently state-sponsored groping
and the gassing of babies is okay.
We float in our sophisticated can
around the unrighteous planet we call home,
growing tired of watching it all go awry,
wondering what's it all for?
I've re-read my much thumbed Thunderpussy
for the umpteenth time -
the hero still saves the world and gets his girl
but the words hold no magic anymore.
All thought of returning down to earth
fills us with mighty dread.
We've discussed it for days and nights
(not that they quite exist up here)
and we've decided to go rogue,
break out of this orbit
and just drift away into space,
come what may.
Merry Christmas Mister Putin.
We're switching off all comms,
there's nothing more to be said.
Let's toast our decision
with one last serious anaesthetising vodka
and smiling wave the earth goodbye.
Fire one, fire two, and we're spinning free,
above us only sky
as the crumbs of fortune's last cookies
drift around our heads.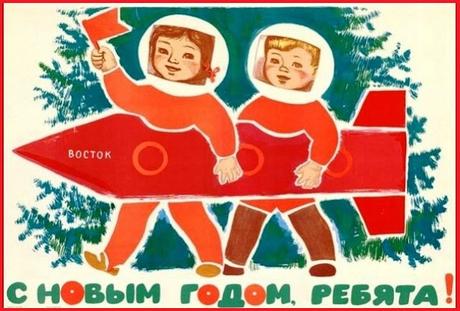 Happy New Year from the Grandchildren Of The Revolution
If you're in the mood for mince-pies and live poetry, Lancashire Dead Good Poets' collective is holding its December open mic night on Thursday 13th at the Jazz Emporium in St Annes (see the sidebar for details), when we'll also be launching our latest anthology, 'The Big One'.  Be there or be square, qouth the quipster.
Okay, I hope you've enjoyed the trip. Thanks for reading, Earth people. Merry Festives! S ;-)
Email This
BlogThis!
Share to Twitter
Share to Facebook
Reactions: