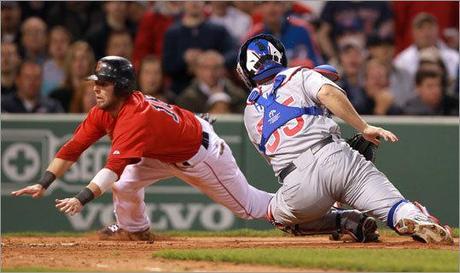 The Red Sox pulled out the whoopin' sticks against the Cubs at Fenway, and won their seventh straight, 15-5.
Kevin Youkilis and Jarrod Saltalamacchia went deep, Adrian Gonzalez continued his torrent hitting and is up to a league-leading 41 RBI. Jacoby Ellsbury had two RBI, Dustin Pedroia scored three runs (pictured), and every starter but Mike Cameron had at least one hit. The Sox had 19 hits total.
Lots of Cubs fans in the house, as they travel to see their team as much as Red Sox fans see their team on the road as well. And they couldn't be happy seeing their team make four errors last night.
It's a good thing the Sox were scoring early and often, as Jon Lester didn't have it at all last night. he allowed five runs in six innings, and the Cubs had two men on in every inning he pitched. (And is it just me, or does Lester looked pissed off all the time on the mound now?) Scott Atchison actually got a save, as he pitched the last three innings, allowing just two Cub baserunners.
The Red Sox are now just 1/2 game out of first place, as Tampa Bay lost and the Mets beat the Yankees, 2-1, and pass them into second place. As we all know, the world is coming to an end tonight at 6 PM, so the Red Sox will enter Eternity with a better record than the Yankees.
Not bad for a team that started 2-10, and has gone 22-10 since.