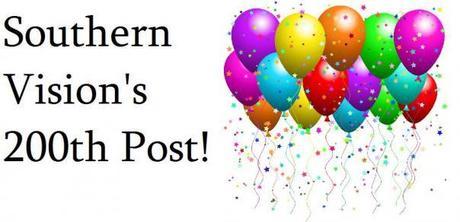 When I reached 100 posts back in July, I thought it would be November or December when I reached the next hundred milestone. But to my surprise, it was sooner than expected. On today, October 7th, I have reached 200 posts on my humble movie blog known as Southern Vision.
Today, I've decided to turn the spotlight to each and every one of the film bloggers and others who follow me, and have regularly contributed their voice to the comments of Southern Vision posts. I'm desperately trying to include everyone here, so if I forget anyone, then just let me know in the comments and I'll add you in. In no particular order:
The helpful people at the LAMB were kind enough to add me as a member of the Large Association of Movie Blogs, for which I will be forever grateful. They also have great features, games and a great podcast.
When neocowboy leaves me a comment, it's always interesting, thought-provoking and often long. For that I'm extremely grateful.
micca also comments frequently on my blog, and his opinions are always relevant and interesting.
Scott Lawlor, of Front Room Cinema is a funny, charming, and glowing personality, whose sense of humor always enlightens the blogs he visits as well as his own.
John's fantastic blog The Droid You're Looking For was the first movie blog I ever followed, and his charismatic sense of humor and agreeable opinions make his blog a fun place to be.
Ruth at Flix Chatter has a really great blog, with her interesting opinions on the latest movie news as well as other miscellaneous trivia as well as frequent guest posts from friends.
Toby of Blah Blah Blah Gay writes insightful film reviews on foreign, indie and mainstream cinema, with a proclivity for film noir, which he is obsessed with at the moment during his current "Noir-a-thon."
Andy Buckle's Film Emporium is a great place to go for general film reviews, news and updates.
Alex Withrow of And So It Begins… writes great reviews that are definitely worth checking out, in his own honest, unique manner that you're unlikely to find anywhere else.
Colin of Pick n Mix Flix is not afraid what other people think. His reviews are concise, well-written and honest, and even if you don't agree with them you have to admit they're beautifully written.
Emil's blog, A Swede Talks Movies, is creative and fresh, a look at films from a charismatic Swedish perspective.
Anna at Defiant Success is obsessed with classic film, and her quick reviews are summaries of many of her favorite classic and modern movies.
Dan, a writer for Top 10 Films, consistently manages to write great lists and reviews at his brilliant site.
Jessica writes the cozy, comfortable blog known as The Velvet Cafe, a place for reviews, lists and other musings on cinema.
Awesome Barnhart has an awesome site, a place for people to go to discuss the latest film news and comment on general cinema.
Cherokee is working on Feminising Film and her blog is a really good one, always interesting and with great writings.
Sam Fragoso, of Duke and the Movies has an awesome blog with a great layout and always interesting posts.
Dan Heaton is a Public Transportation Snob, whose movie marathons, lists and general musings on cinema are always interesting and fun to read.
Jack Deth really gets around! I see him when I visit a lot of the blogs I follow and I was happy when he started commenting on mine. A great man with some interesting opinions.
Joel Burman is a Swede in the film industry, and his advice to readers is to Deny Everything. He also writes for the LAMB and although his writings on his main site aren't frequent, it's plain to see he's a busy man who nonetheless is always working on his blog and others.
Claire Packer celebrates celebrity birthdays, writes reviews and posts and always has a great sense of humor at her self-titled blog, which I only recently started reading but am really enjoying.
Nostra writes for My Filmviews, sharing opinions on cinema, reviews, and an open question to readers every Monday.
Raghav writes for numerous blogs, but his film-based blog Ticker Talks Film is unarguably the one I recommend cinema lovers check out.
Liam of All Films Considered, has a great blog where he invites viewers to share links to their own reviews of films he specifies. An original spin on the blogging scene that gets readers more involved.
Bonjour Tristesse has an amazing foreign-film based blog, where you can always rely on well-written, well-illustrated reviews of foreign cinema, and where foreign film buffs can find great recommendations for great movies.
Max Covill writes for Impassioned Cinema, where he shares interesting movie news, great reviews and fantastic, frequent posts.
Stevee Taylor is a fellow Kiwi, like me, and writes for the awesome blog Cinematic Paradox, where she shares well-written reviews on both new and old films, as well as other miscellaneous film tidbits.
Castor is the Editor-in-Chief of Anomalous Material, a place where movie lovers come to mingle and learn all about the latest news in the world of cinema.
Japecake is one of the few non-movie bloggers on this list, but his self-titled blog is more than worthy of a mention here. He specialises in dark, bitterly sarcastic humour, and his blog is definitely the funniest one I have ever read, and I definitely recommend it.
Julian is Dirty With Class and his blog features great reviews, posts and excellent opinions on cinema. His posts might not be frequent but when they are posted, they're definitely worth reading.
Christian Hallbeck is yet another Swede on this list, but he's just as good as all the others, and his great opinions on my posts are always welcome.
G-LO was the first follower my blog ever had, and ever since it started back in February, he's always hung around to see what's new. He writes for the blog It's Just the Booze Dancing, which features well-written, concise posts on the finer things in life.
–
Those are some of the bloggers I follow and who comment regularly on my site, and I'm insanely grateful to all of them, and I definitely recommend you check them all out. Also check out my blogroll, on the right side column of every page on this site, which features almost all of the blogs I follow.