We loved collaborating with our fellow Southern Living builder, Creative Home Concepts to create a showhouse home in the Southern Living Street of Hope in Richmond Virginia . It started as a farmhouse concept but we took it in a organic direction with the additions of the shiplap, slurried brick, natural beams, and open concept floor plan.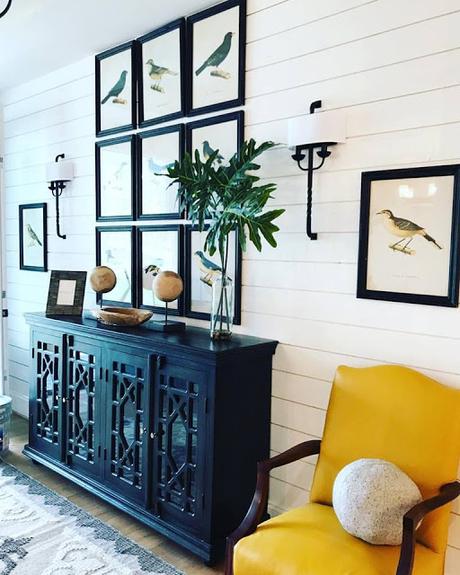 We used all of our Southern Living product partners as well. DXV plumbing, Sherwin Williams paint, Welbourn cabinets, and our biggest interior sponsor was the online retailer The Mine. I sourced everything from the lights, rugs, furniture, accessories and art from their online store. They also graciously donated the entire family room.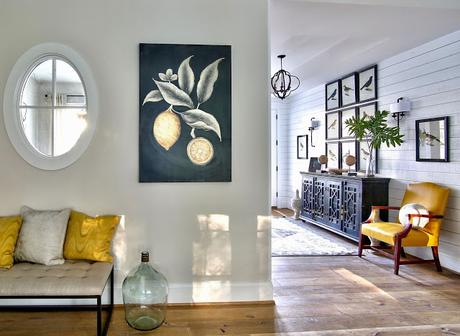 It was quite a personal challenge to design an entire house via a single online resource. The selection was wide and although I think I know that site backwards and forwards, the process was convenient and the quality was great. The site is full of my regular go to sources. 
Tip: Fill a wall with a collection is the best way to make a statement like we did here with the bird art.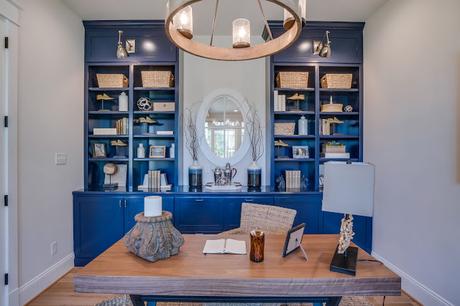 We loved this Sherwin Williams Anchor's Away paint on these bookcases

.

The peak through window gives light from one room to the next. Light was something this house was full of.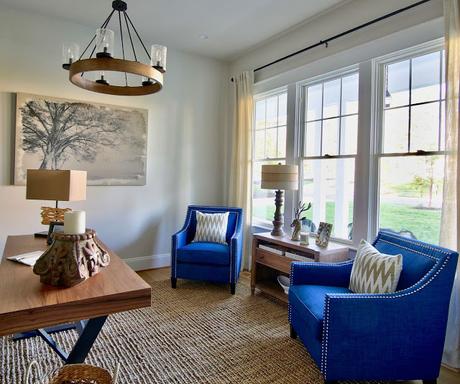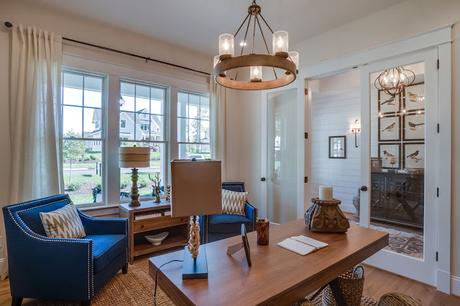 We played with mixing metals from the chrome lights, stainless dining top table, and polished nickel faucet. It is a nice way to create movement in the room.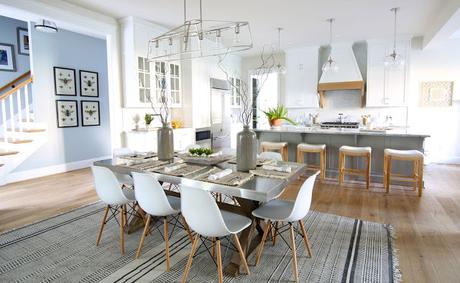 Tip: Add elements of natural wood as we did here for warmth: mantel on hood, legs of chairs and barstools.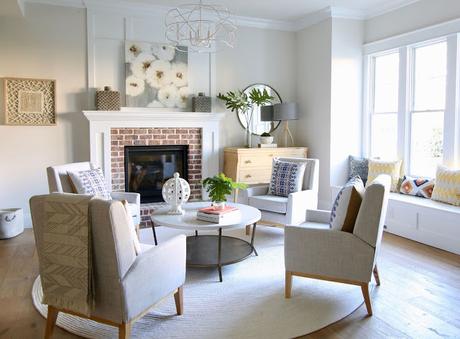 Adding more brick in the keeping room to balance one side of the room to the next. 
Tip: When arranging furniture think of groupings, 4 chairs around a round table is a great way to include everyone in the conversation.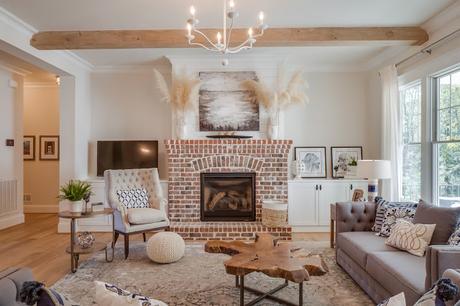 We did not add bookcasses on each side of the fireplace. We wanted the walls to breathe with some open space. A showhouse is a great place to experiment with different ideas and concepts.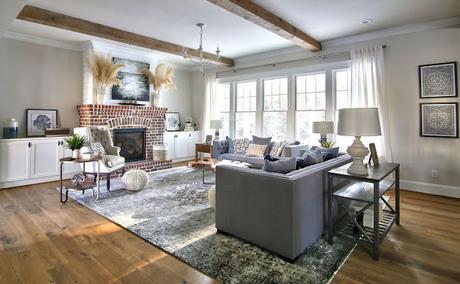 Tip: Natural beams are the perfect wall to connect the large open space and bring more warmth to the room.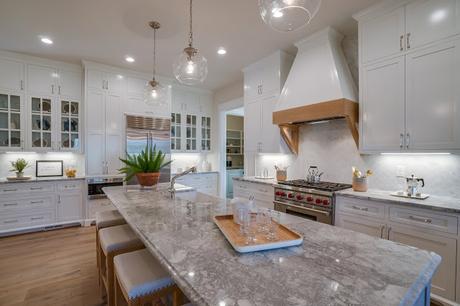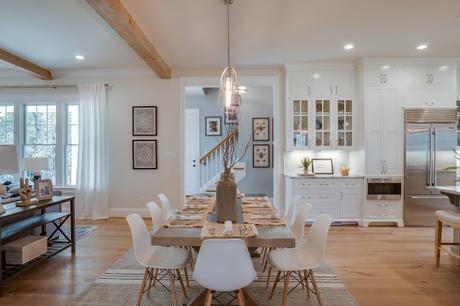 Tip: Super White Quartzite butterflied matched in the center for a dramatic pattern match. It also allows us to create a larger island.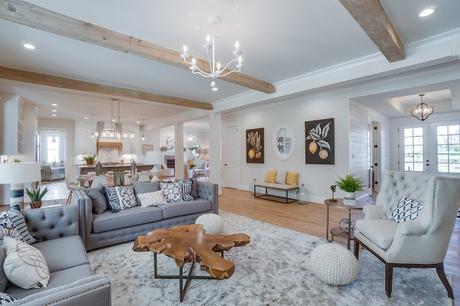 The coffee table was a nice surprise as our original choice was still backordered by the time we needed it. This table came in at the last minute but it's organic shape was the perfect shape to set off the room.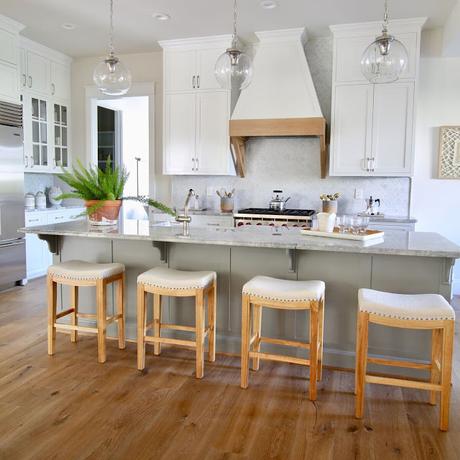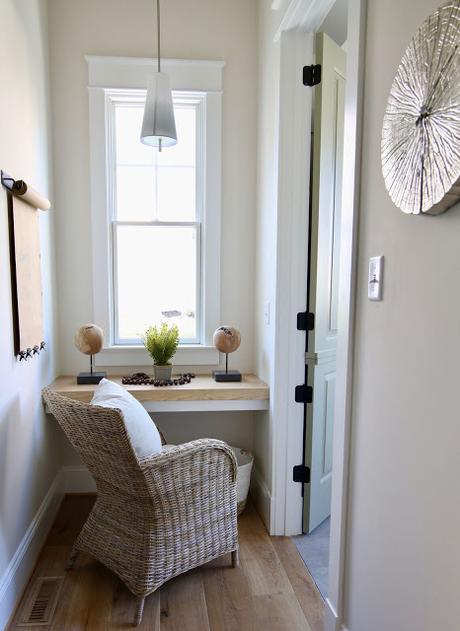 We added small moments throughout the house like this desk area off the kitchen.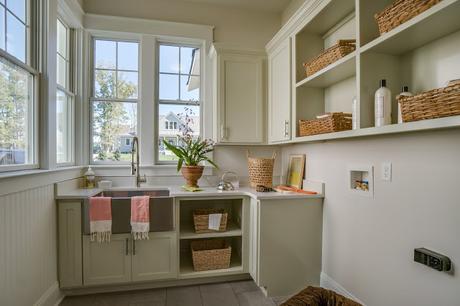 Ancient Marble Paint color for the laundry room.  The perfect soft green.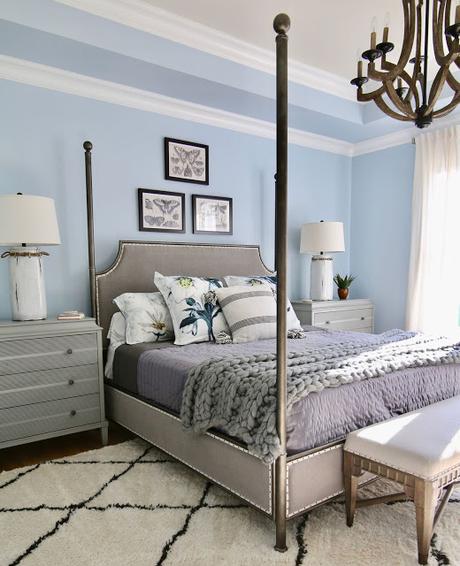 For the Master Bedroom we used our own paint colors, Bridget Beari Colors Calvin E32. A bold blue softened by these beautiful Designer Guild bed linens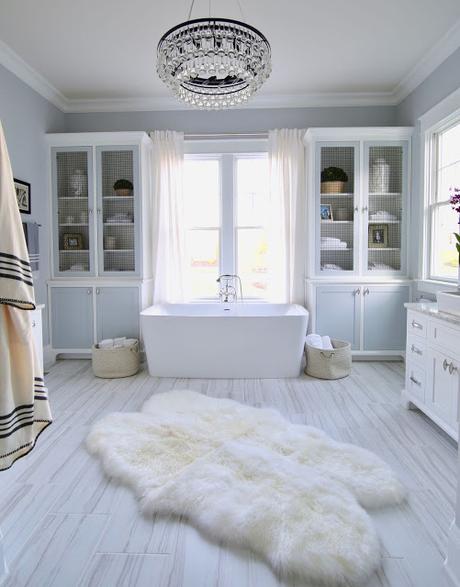 Our serene master bath with custom built ins. I love the 2 tone effect on the cabinets.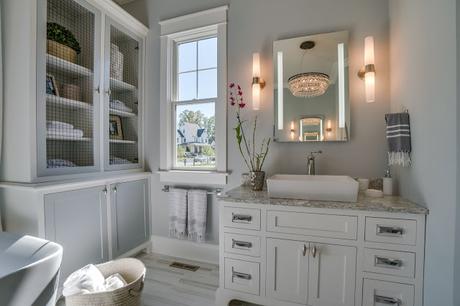 There was even a game room and yes we bought the pool table from The Mine.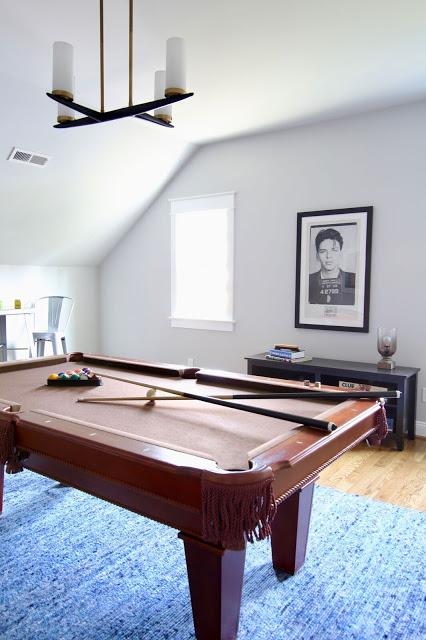 A kid's study were we deconstructed one table to use the black base of another table. We love even customizing ready made pieces. Antother Bridget Beari Color here - Winston M34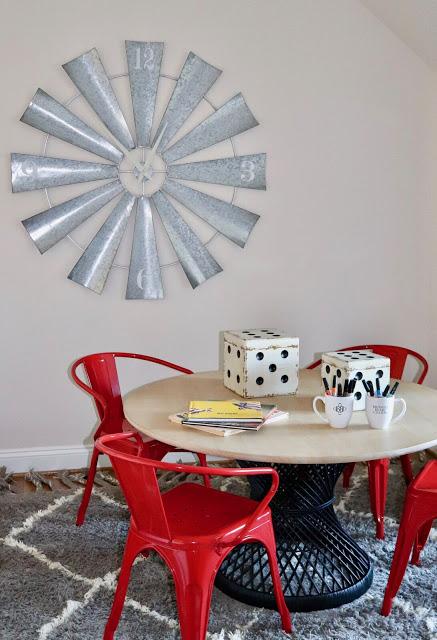 Guest Room #1 - Black and white upholstered headboard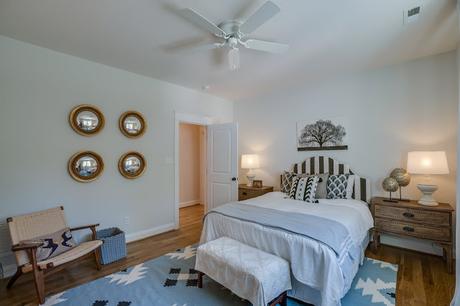 Our black, white and blue bathroom filled with DXV matte black fixtures!
Tip: Think of contrasting color to add to a black and white scheme as we did here with our vanity and mirror.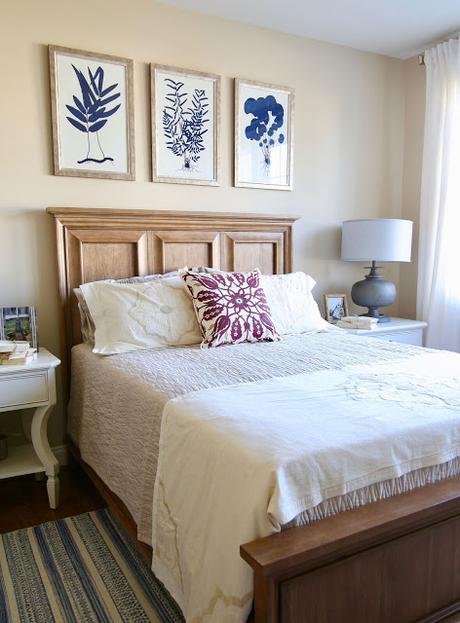 Guest Room #2 - Mix up your finishes within a room for more interest.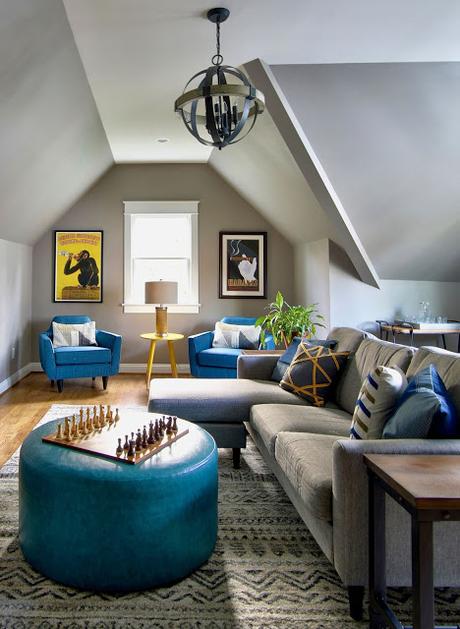 Every house needs a man cave. We used our Bridget Beari Colors here too - Monk M10 We were on a tight budget to fill an entire house but we were able to really make it work! 
We love our Southern farmhouse - Bridget Beari style! The house is still for sale and all the furniture, accessories too. Let us know if you are interested in anything or that you visited the house.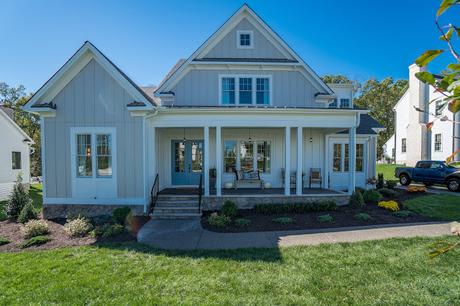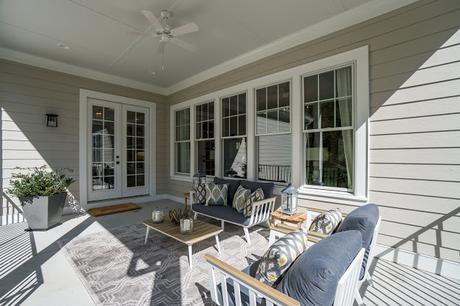 Watch for the opening of our new home store, Bridget Beari Home coming in December to Richmond, VA. where you can find all of our paints, wallpaper, furniture and accessories.