Well here I am writing about Chennai, where I was three months ago and from which I wrote my last post.

 

Yes, the last three months have been rather full, though clearly not of blog posts.
I got very excited, in transit in Delhi, by all the shiny shops at the airport.

 

Perhaps my backpacking-on-a-shoestring karma is indeed expired, as all I wanted were mod-cons and a modest degree of luxury (probably an oxymoron), as I sat eating my Baskin Robbins ice-cream and slurping my Café Coffee Day cappuccino.
I'm still trying to work out the sensation of stepping off the plane at Chennai.

 

I don't think the temperature was in fact any different to Rishikesh, but somehow the air felt hotter, clinging, as though it liked my skin. I definitely felt I was further south, nearer the Equator. I used to have the same sensation getting off planes in Port-Gentil (childhood African home, actually on the Equator, long story), hair suddenly curly in the humidity.

 

Well it might have been damper than usual, because the tail-end of the monsoon was still with us, but Chennai is not a humid tropical place.

 

More hot and very dry.

 

But somehow, southern India felt much more like home, despite the fact that I was in Tamil Nadu, a state I had only spent a week in during my last trip.
Apart from anything else, the base line of cleanliness is definitely higher in south India, which was a huge relief.

 

My rucksack had got even more filthy (something I had not thought possible) during my journey to Jolly Grant airport near Rishikesh, having been deposited in the boot of a taxi with what seemed to be a load of used motor oil.

 

I spent the next morning on the roof terrace scrubbing it with a hard brush and the harsh block of laundry soap that destroys my clothes so quickly in India. Doubtless that's the end of its waterproof coating, but at least I can once again touch my rucksack without my hands coming away black.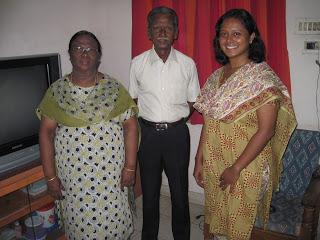 Irene's mom Agnes, Dad Cyrilraj and Irene herself
I stayed with Irene and her lovely parents, as I did on my last visit to Chennai.

 

Many things had changed since then, not least the passing of Dennis, the lovely old dog.

 

But Irene's mom is still a wonderful cook and both her parents are still fantastically sweet and welcoming.

 

Irene was very busy with work this time, but we did manage a few day-trips during my week, which I otherwise spent writing blogs, doing yoga and shopping – for things like shoes and leg-waxing.
So yes, I did replace my beloved stolen sandals in a swish Chennai shopping mall.

 

The replacement was perhaps more elegant than what had gone before, but nowhere near as comfortable or robust.

 

A month later, my feet beaten by the streets of Trivandrum and the earth of the kalari, I caved in and ordered the exact same ones as the stolen pair (bar a few cosmetic details) online, and had them shipped to a friend in Wales who then posted them on to me (I am sending daily blessings of gratitude to her for this). They arrived on the last day of Navaratri, so I really did feel blessed by the goddess.

 

Some attachments, I reflected, as I donned my new shoes, are actually quite useful.  Bar the occasional torn heel from the kalari floor, my feet haven't hurt since.
The first big day-trip Irene and I embarked upon was to Pondicherry.

 

"I really associate that smell with Chennai," I told her, as our bus passed through a particularly odorous street, "jasmine and rotting rubbish."
Pondicherry is about a three-hour bus-journey from Chennai and was once a French enclave.

 

You can get very good almost-French food, croissants, coffee and seafront walks.

 

I particularly enjoyed the Tamil/French street signs.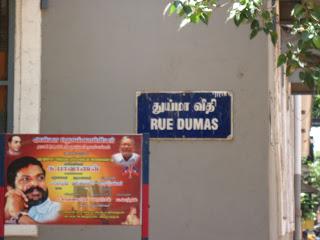 After much eating and drinking, we commandeered an auto-rickshaw to Auroville, a sort of ashram-village place nearby.

 

I've heard many good things from people who've stayed in Auroville, but to a lowly day-tripper, it felt distinctly odd, centred around the personality of "the mother" a European woman with a particular vision of the world who I never quite figured out, beyond having this somewhat astonishing "Matrimandir" built: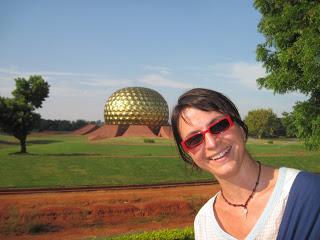 Another bus journey a couple of days later took us to Mahabalipuram (or Mamallapuram, according to who's speaking).

 

At one point, the bus conductor deposited a couple of large sacks on the side of a road populated by nothing but grass and trees.

 

I asked Irene what he was doing.

 

"Oh, people will come to pick them up," she said nonchalantly, as though depositing sacks of cargo unattended was the most natural thing in the world.

 

"They'll know what time the bus comes."

 

I tried to imagine the fate of goods left unattended on the side of the road for their rightful owners to collect back in the UK.

 

If not nicked or vandalised, it's quite likely they'd be blown up by the bomb squad, I reflected.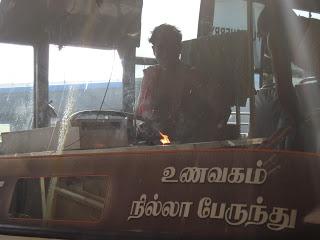 No, the bus isn't on fire. It's just undergoing its morning puja.
Mahabalipuram is a bit of a mystery, but parts of it at least seem to have been a sort of temple-carving laboratory 1500 or so years ago.
This was my second visit, and I was just as enchanted this time round (and just as outraged that my entrance fee was more than 10 times Irene's. But that's a whole other story and debate).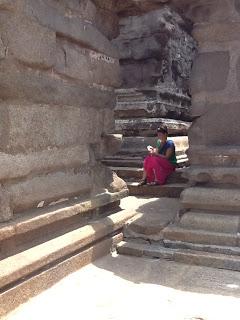 Hiding in the shade at the Shore Temple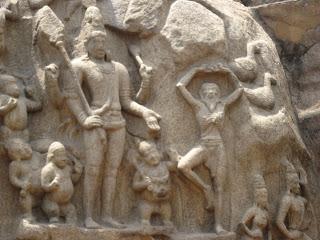 The emaciated chap with the arms above his head is Arjuna, doing his penance to get that rather large weapon off Shiva.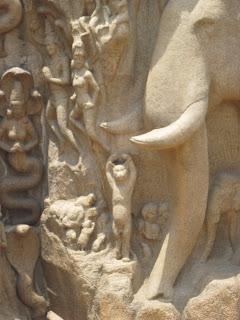 And here's a cat, at the lower end of the bas relief, taking the mick.
Mahabalipuram is also a bit of a modern-carving centre, where you can buy huge statues that take two or three artisans over a year to carve (like this Hanuman they're applying the finishing touches to) or more modest handbag-sized carvings of various sorts, many of them rather exquisite.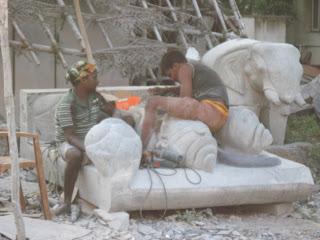 "I'm Christian," Irene would tell bemused shop-keepers trying to sell us their wares with stories in Tamil.

 

"You need to talk to her.

 

She's the Hindu," she'd say, pointing at me.
That evening, we went for a barbeque with some of her friends (also Christian, co-incidentally).

 

Our hostess wove three types of jasmine from her garden into a wreath for my hair (the flowers smelled completely beautiful, unlike me after my very long, hot and sweaty day) and presented me with a little box full of miniature oil lamps.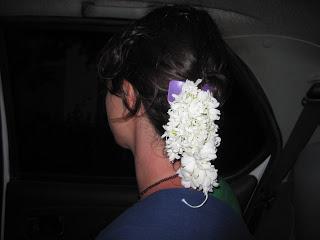 Because I'm Hindu and it was Ganesha's birthday the next day.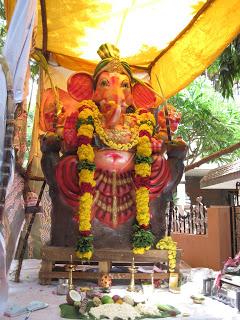 Ganesha, dressed up for his festival, on a street near Irene's in Chennai
Life is very surreal.
A couple of months later, observing in the clinic at the kalari (more on this anon), I met a "Mr. Ganesha", appropriately enough, the remover of obstacles, who is the secretary to the Maharaja of Travancore. He is responsible for processing the papers that say you have converted to Hinduism and can hence enter the temples in Kerala (and maybe Varanasi too) forbidden to non-Hindus.

 

The Hare Krishnas have to approve your application and I'm not sure how they'd take to me, but I did seriously consider converting.

 

It really bothers me that I can't enter the big temple here in Trivandrum.

 

I'm not sure I'll have time, looking at the way things have unfolded, but I'm still considering it.
My week in Chennai, in the care of Irene and her lovely parents, was soon over.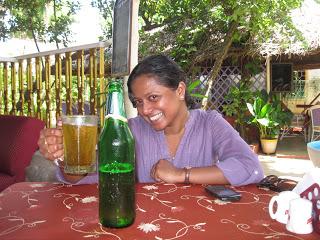 Irene, eating (and drinking) a la française in Pondicherry
It was time for another plane journey, this time to Trivandrum.

 

My first month in India was up and I was finally about to start on what was supposed to be the point of my trip: training at CVN Kalari in Trivandrum in the south Indian martial art, Kalarippayattu and learning some Sanskrit.

 

It was time to bid farewell to friends and to juggle my belongings into their various bags for the last time before moving into my home among the coconut trees for the next four months.
From Lucy, with love x