2 days ago, I invented & made these delicious Kamut Sourdough Buns! An easy recipe that is adaptable from the previous recipe aka my semolina sourdough bread but I changed only one ingredient. The semolina flour , I changed into organic kamut flour, I used the same quantity so 250 gr organic kamut flour.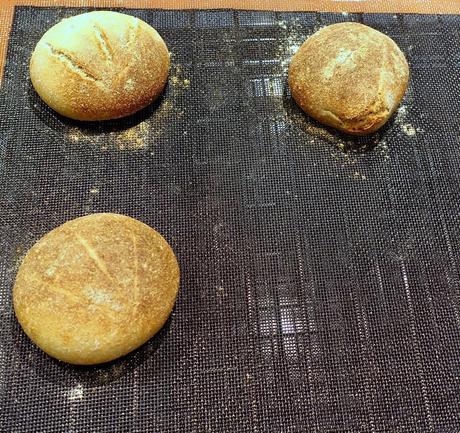 Ready to cool down!
Let's look at that interior: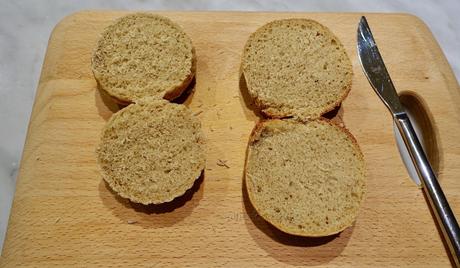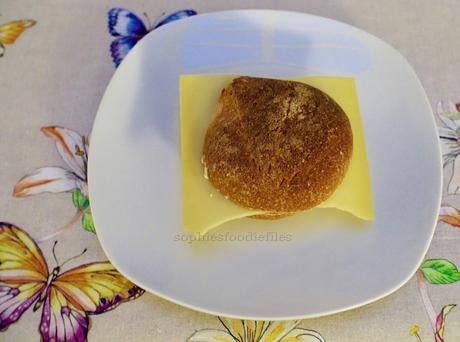 Recipe: For 9 bread rolls
Ingredients:
190 gr oat sourdough
270 ml warm water
260 gr organic white flour (T 65)
250 gr organic kamut flour
9 gr salt
Method:
Take Kenwood Major & place dough hook in. In bowl, add oat sourdough & warm water & mix on low-speed number 1-2 for 1 minute. In another bowl, add white & kamut flour & salt. Mix well with a spoon. Now, pour flour-salt mix to the sourdough-water mix. Knead on low-speed , number 2 for 3 minutes & then turn speed up to number 4-5 for 5 minutes of kneading. Then, take out of the bowl with your clean hands and a dough scraper. You don't need any flour!!!! Knead the dough by hand for another 3 minutes or so. I did the stretch & fold method a few times to stretch the gluten within! Then, I lined a Bread Silpat & placed it onto an oven rack. I formed 9 rolls aka buns of them & shaped them round. Make them as big or as small as you want. You have to know, that they will expand! I rise this sourdough for 1 long 6 hours rise! 

Scatter some kamut flour over the surface top & sides of each roll to prevent sticking to the closed plastic bag.

Place each into a closed plastic bag & let it rise for 1 long rise for 6 hours in a warm place!!! They all will slowly rise! When ready to bake, preheat your oven to 220°C (428 F) for 10 minutes. After that, score your bread top, like the pattern you want. Place just boiled water in a ceramic dish besides your bread tin & close your oven. Lower heat to 200°C (392 F) & bake for about 25 minutes.
When ready, buns are browned & risen. Tap on the bottom to see if baked through. If it sounds hollow, it is fully baked! Place onto a wire rack, to cool down completely. When ready, eat with a big smile on your face!

Yummy Yum! They won't last for 2 days! Do you have any tips in scoring your bread tops better? Do I have to slash deeper?         Like what you see & want receive my posts per email? Subscribe here & join 1,800 email subscribers! You will get my free E-book: Healthy Vegan Christmas too! When you subscribe to my blog, you will receive an email to confirm your subscription & then, you will receive a final thank you email where you can download the recipes in the format that you want.
I have a version for a IMac, iPad, iPhone.
I also have a version in PDF-format.
Click onto the photo below :