Both sides bitter as orchestra lockout ends.
by
Paul J. Pelkonen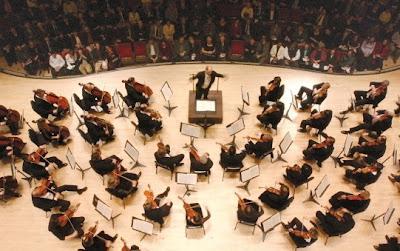 A new collective bargaining agreement in Atlanta will shrink their symphony orchestra to 88 players.
The lockout is over in Atlanta.
That's the news from both sides of the labor dispute that threatened to axe the Atlanta Symphony Orchestra's 2012-2013 season.
Following the end of their contract, musicians were
locked out of the Woodruff Center
, the orchestra's home base on Sept. 4. Last night, the players agreed to
all
of management's demands and cuts in the interest of preserving the ensemble's season and reputation as one of America's better orchestras.
In a press release today, the ASO announced that the new two-year collective bargaining agreement "amounts to $2.4 million in annual contractual savings. Additional savings will come as a result of ASO senior staff compensation, which will be reduced by 6% for the duration of the two-year contract as well as unfilled staff positions, and savings from foregone wages and benefits from the musicians."
The Atlanta Symphony Orchestra Players Association announced the news last night in their own press release, quoted here: "In an unprecedented and extremely painful move designed to keep the music going, ASOPA agreed to every dollar in concessions that the Woodruff Arts Center (WAC) and ASO management have demanded since the lockout began on August 25.  In the interest of continuing to bring music to the community and opening the season on time, ASOPA has accepted $5.2 million in concessions over a brief two-year agreement."
The chief bones of contention in the dispute were attempts to unravel $20 million in debt that threatens to cripple or bankrupt the venerable orchestra. The ASOPA had made an offer to the orchestra which included a reduction in staff salaries comparable to the pay cuts being sought by the administration.
The ASOPA press release points out that the new CBA will reduce the size of the orchestra from 95 players to 88. Meanwhile, the orchestra staff consists of 75 people, a proportion that nearly equals one staffer employed for every musician.
While the season will move ahead as planned, a report on Norman Lebrecht's blog
Slipped Disc 
indicated that players in the ASO are looking for other jobs, and qualified orchestra musicians around the United States are avoiding positions in Atlanta.