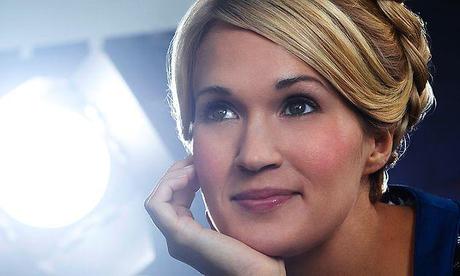 Carrie Underwood
It seems like it was just yesterday that Carrie Underwood was announced to be starring in a LIVE televised production of the Sound of Music.  Well finally after about a year of waiting and anticipating the night came for the grand performance.
It didn't take long for die hard fans of the Julie Andrews (not the original as it was adapted from the 1959 Broadway production starring Mary Martin) version to start crying foul.  The movie took creative license and rearranged the songs a bit so naturally it came as a shock when some of the best known songs of the musical were sung out of order in last night's telecast.  For me this was a small part of a bigger problem.
I want to start by saying that I'm huge fan of Carrie Underwood and generally everything she touches turns to gold but this time the production failed her.  Carrie as Maria was wonderful, she sung the part beautifully and her acting wasn't as bad as it could've been (think Russell Crowe's singing in Les Miserables) the same can be said for Stephen Moyer (Georg Von Trapp) whose acting was better but lacked the singing skills. That's what you get when you chose not to use Broadway stars for a Broadway style production.  Most impressive for me was Audra McDonald, I was familiar with her as Naomi on Private Practice, and it's clear why she has a record 5 Tony Awards (she shares the record with Angela Lansbury and Julie Harris).  Her voice did great justice to the character of Mother Abbess.
Firstly in all honesty how many people would've been familiar with the 1959 Broadway original compared to the 1965 blockbuster which grossed nearly $290 million dollars at the box office.  Considering how popular and well known the film version continues to be I think it would've been safer bet to keep the Live production closer to the movie (song order etc)…but that's neither here nor there.
My biggest problem with this live version was that it came off as a low budget high school musical, and none of this was any fault of Carrie Underwood and the rest of the cast.  The whole thing just seemed flat, and, I think, the fault rests entirely on the fact that it was filmed in a one dimensional environment with no real depth to the set.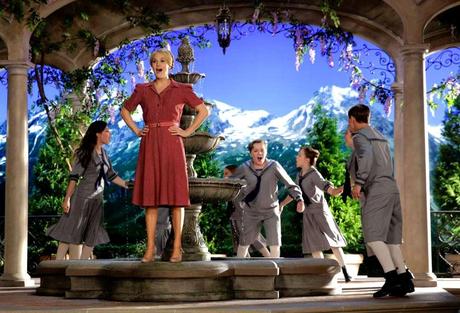 Carrie Underwood and the Von Trapp children perform during Sound of Music Live
The Sound of Music story takes place in the alps of Austria one of the largest, most beautiful and most open spaces in the world.  A place where your voice can be heard for miles and a song can take on a life of it's own.  The Sound of Music Live took place in a Hollywood sound studio that looked and felt small and low budget.  It completely lacked any form of life which is what tends to happen when you film something in a parking lot.  I believe that this production had potential to be great and I think if they took the same production and remake it with a proper budget, in the right venue and turn it into a blockbuster event rather than a live gimmick meant to boost ratings for NBC.
One of the hardest things about being a critic is when you have to give a negative review to something you were looking forward to, unfortunately this is one of those times.  For Sound of Music Live I give the performances by the cast a 7 out of 10 but the production gets a 3 out of 10.