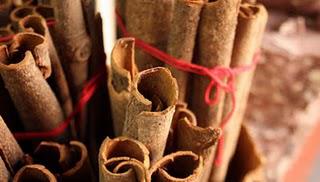 Cinnamon
I can smell it as the abra touch-parks at the riverbank. The aromas lead me stumbling up the gangplanks and into a throbbing intersection. I ponder for a moment - safe stroll through the subway, or manic death-wish rush through Deira traffic? I opt for the road - the thought of darkness, dankness and urine assaulting the senses is unbearable.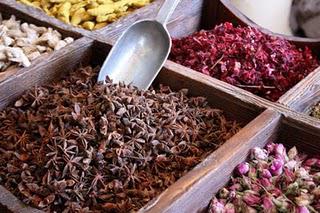 tumeric, ginger, star anise, rose buds and hibiscus
Suddenly I find yourself on the other side, and snicker at the fools coughing and spluttering while collapsing out of the vile tunnel. I am already striding ahead into a different cloud of air pollution, the kind you find at a spice souq.
Souq, souk and suq are all appropriate spellings, and they all mean the same thing – it's Arabic for 'market". The Spice Souq is my favorite of all in Dubai - sure, it's ripe with the standard pitfalls of a tourist trap - cheap rubbish dressed in clever disguise, laughably high prices that are never offered to the locals, spruikers offering fake (and substandard to karama) designer handbags and watches. But this, to me, is the closest we get to a traditional Arab market, and the atmosphere is intoxicating.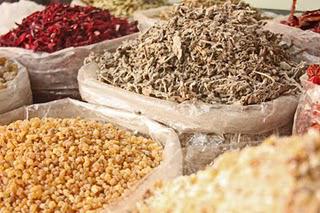 Frankincense and more
There are fewer westerners here than in the Old, Textile, or Gold Souqs, particularly as you delve into the deeper, narrower aisles. On many visits I am a lone white face, and the only unveiled female. The stall holders always think I'm German, and when I don't respond to their greetings, the switch to French, then finally English. I marvel at their unappreciated skill with language, yet skirt them expertly. I have "my guy", the man whose prices start halfway up the scale now he knows my face.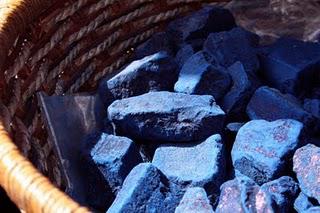 Indigo
I pass pots large enough to cook Hansel and Gretel, rows of shisha pipes, plastic bowls that look like porcelain, dinky toys, perfumes, henna and hair jewelry. Finally I find him, on the corner, near the money exchange. He smiles and welcomes me in, never remembering I have been here before until I request the spicy cashews that often are not on the shelf. His father sits at the desk beside the other exit, grumbling occasionally, snorting and frowning until I finally buy something.
And what do I buy?
Za'atar - a herb mix of thyme and sesame that is a great bread-dipping base, but I use for all kinds of things
Sumac - zingy, citrussy, magenta-coloured powder that I mainly use with fish, but also to flavor salad dressings (it is a necessary ingredient in Fattoush)
Saffron - honey flavored and as expensive as gold. Just make sure you get the real stuff, not the terribly inferior substitutes.
Baharat – the Arabic alternative to curry powder – a fragrant hot powdery mix especially good as a rub for barbecued fish and chicken.
Hibiscus and chamomile flowers – for caffeine free tea, particularly good when sweet and iced with lashings of lemon.
Rosewater and orange blossom water - for salad dressings, sugar syrup base for baclava, and to put in my bath.
Turmeric - in root or powder. It's flavor is subtle - slightly nutty and herbaceous, but I love the colour. Essential in curries.
Cardamom - again, for the sugar syrup, and also to flavor my tea. a fragrant, fresh spice that lends itself to both sweet and savory dishes.
Oud - slivers of the highly aromatic wood that rivals saffron's price. A piece just 1cm square will burn on charcoal in a terra-cotta pot in my living room and leave it's magical scent for days
And of course, the spicy roasted cashews. (Click on the links for my recipes)
----------------------------------
The spice souq, souk or suq is not the only place you can purchase these things in Dubai - even the local Carrefour sells spices by the scoop out of a sack here, and probably cheaper. But the souq is a journey through space and time, not just a shopping destination.
The souq is open daily from 10 am till late, with the standard siesta hour or so from 1pm to 4, and is closed on Friday mornings. Like all markets however, the opening hours of individual shops vary.
It can be found next to the Dubai Creek, on the Deira side - identified by a row of decrepit beige wind towers, and of course, the smell. It's walking distance from the Gold Souq (in mild weather), and an easy abra ride from the old souq. If you are coming from the textile souq, walk the short distance through to the old souq entrance, because the abras at the textile souq go somewhere else entirely. All four Souqs can be seen in one day (or, if you are like me, in many many days)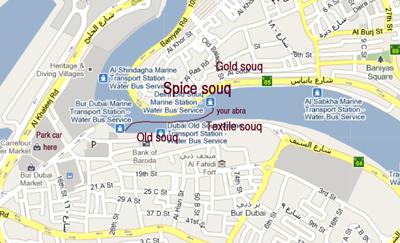 Leave me a comment and make my day...