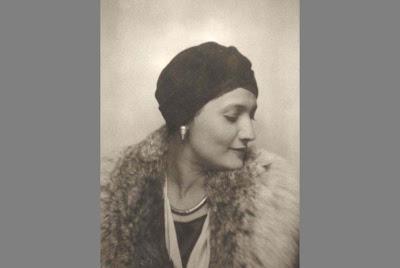 Suzanne Belperron
On May 14th Sotheby's Geneva held the sale of the personal effects of one Suzanne Belperron (1900-1983). For those in the know, this was an very exciting sale indeed. Belperron has long been considered one of the most important female jewelers of the twentieth-century however pieces by her are quite rare, yet serious collectors, people with style and knowledge, will do anything to hunt down a piece of jewelry designed by Madame Belperron.
Belperron's story is full of intrigue and mystery and would make a great film. Née SuzanneVuillerme, Belperron went to work for the Parisian house of the renowned jeweler René Boivin as a designer when she was just 21 years old having been friendly with Boivin's sister, Germaine. She stayed there for ten years and in 1931 left to go work for Cartier. Shortly after, around 1933, Belperron joined Bernard Herz, a pearl dealer and the two opened a firm known as Herz-Belperron. Some say that this collaboration with Herz offered the designer full artistic freedom which no doubt Belperron wanted as her style was very different from the norm. She favored semi-precious stones just as much as precious stones, often working with rock crystal, chalcedony, blister pearls, and sapphires. Belperron also preferred white gold to yellow gold and while she kept up with the trends in jewelry of the period, producing pieces that were very geometric and rigid, she also loved natural forms and would often design beautiful flower brooches. However at the start of WWII, Herz was sent to a concentration camp (where he perished in 1943) at which point Belperron took over the firm to save it from being closed and operated it under her name until the 1970's.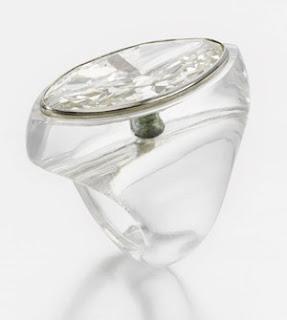 (Lot 60)  Carved rock crystal ring inset with large navette diamond, Suzanne Belperron, 1932-1955   Estimate: 45,000 - 72,000 CHF (50,000 - 80,000 USD)  Sold for 464,500 CHF (492,794. USD)    
 Belperron's work was very much in demand, in fact her clients were part of the
beau monde
and included many famous celebrities, like Frank Sinatra, fashion designers, like Elsa Schiaparelli and Jeanne Lanvin, and  high-society like the Duke and Dutchess of Windsor, perhaps her greatest patrons. In fact, it was after the auction of the Duchess of Windsor's jewels in 1987 the Belperron's name was once again in the spotlight.  Belperron's pieces are so distinct that they designer refused to sign them, saying that her style should be enough for someone to really know that the piece is hers. Although even thought the pieces are not "signed" they do bare the hallmark of her workshop. Belperron also designed a great deal of jewelry, especially rings, for herself. So if you come across a size 5 ring, then you know it must have belonged to Madame Belperron.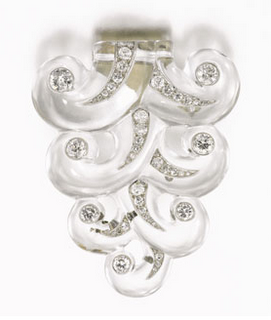 (LOT 59) Attractive rock crystal and diamond brooch, Suzanne Belperron. 1932-1955
Estimate: 45,000 - 72,000 CHF (50,000 - 80,000 USD)  Sold for 302,500 CHF (320,851 USD)
The auction in Geneva featured 50 lots of jewelry- all belonging to Belperron- the largest collection of her pieces to ever appear on the market at once. And not only did very single lot sell  (this is what auction houses call a "white glove sale") but everything sold well-above its low estimates and bringing in a total of 3,224,950 CHF (approximately $3.4 million).
If you missed your opportunity to buy anything at the Sotheby's sale, New York's Primavera Gallery has a significant collection of Belperron's jewelry, some of which can be viewed on their
website
. 
Additionally, Nico and Ward Landrigan (current owners of Verdura) are relaunching Belperron and have created a beautiful
website
detailing their collection. They also write that they purchased 22 lots at the Sotheby's sale!