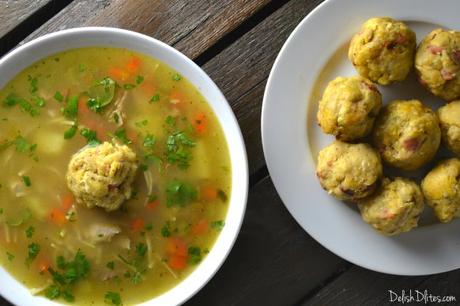 I'm 1000% certain that my mother's caldo de pollo con mofongo can cure anything. Whenever any of us were feeling under the weather, we knew this would be on the menu. Simple, yet sophisticated, this is definitely not your average chicken noodle soup. The broth is flavored with sofrito (of course, it's Puerto Rican!), and simmered with simple ingredients like chickcn, carrots and potatoes. But the real star of the show are the mofongo balls. Caldo de Pollo con mofongo is the Puerto Rican equivalent of Matzah Ball Soup.
For those who haven't had the pleasure of trying mofongo before, it's pretty much Puerto Rico's national dish (or at least top 3). Green plantains are peeled, fried, then mashed with fried pork skin, garlic and salt. You can eat mofongo a hundred different ways, but in this recipe, the mofongo is shaped into balls, and then dropped into the soup, or eaten on the side.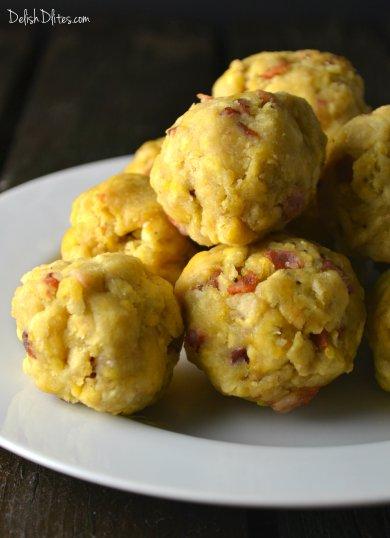 This Puerto Rican chicken soup is the stuff of legends, you owe it to yourself to make this recipe next time your soul needs a pick-me-up.

2 teaspoons olive oil
2 tablespoons sofrito
1/2 medium onion, diced
1 medium carrot, diced
1 medium potato, diced
1 celery stalk, diced (optional)
2 14 oz cans low sodium chicken broth
2 cups water
3-4 skinless chicken legs
1 heaping cup fideo noodles (fine egg noddles)
4 teaspoons powdered chicken bouillon
1/4 cup fresh cilantro, chopped
Canola oil, for frying
2 green plantains
2 slices cooked bacon, crumbled
Adobo seasoning
Garlic powder

Heat a Dutch oven to medium heat, then add the olive oil. Add the sofrito, onions, carrots and celery and saute for 2-3 minutes. Add in the diced carrots and saute for another minute.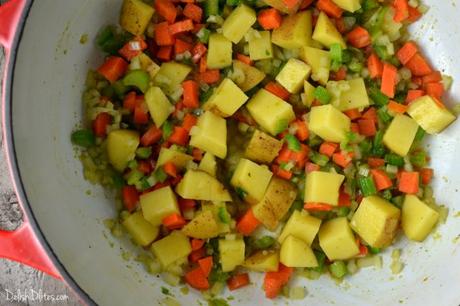 Toss the chicken legs in.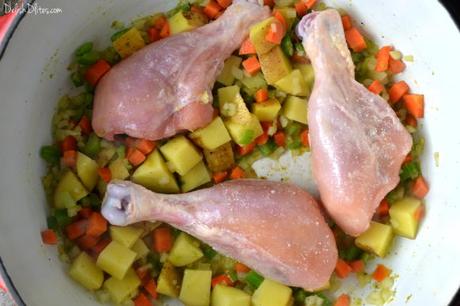 Add the chicken broth, water, and powdered chicken bouillon. Bring the mixture to a boil, then lower to a simmer and cook for 30 minutes, until the chicken is cooked through.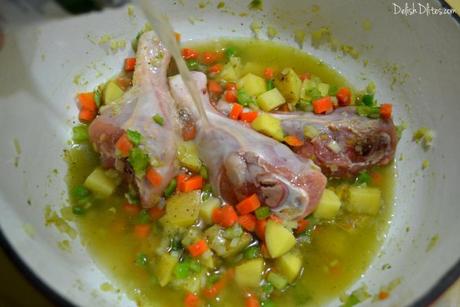 Pull out the chicken legs once they're cooked, and pull the meat off the bones. Add the shredded chicken back into the soup and taste for seasoning. Add more chicken bouillon if needed. Then stir in the fideos and cook for another 4-5 minutes, until the noodles are tender.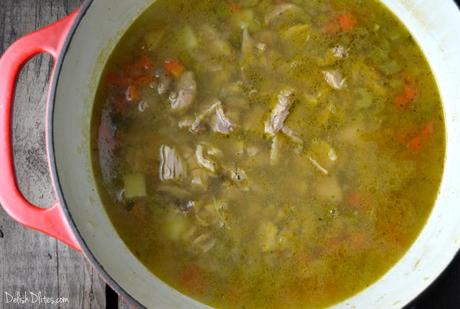 For the mofongo balls, first peel the plantains (check out my tostones post to see how). Cut the plantains into 2 inches pieces. Submerge the plantain pieces in salted water so they don't brown while your canola oil heats up to 375 degrees F.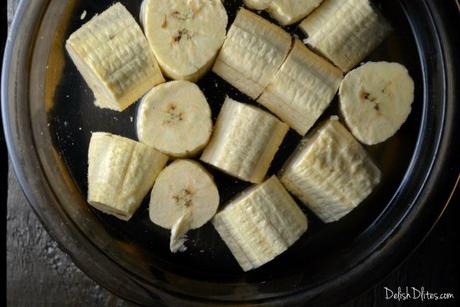 Fry the plantains until they're golden brown and easily pierced with a knife. In a pilon, add a few of the plantain pieces. Sprinkle with adobo and garlic powder to taste, and add 1/2 of the bacon crumbles.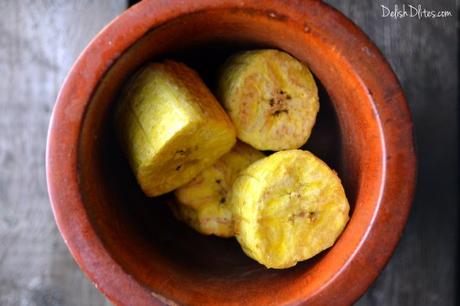 Mash the plantains until they become a paste. If they begin to dry out, add a bit of the chicken soup broth, until the mixture is moist but not soupy.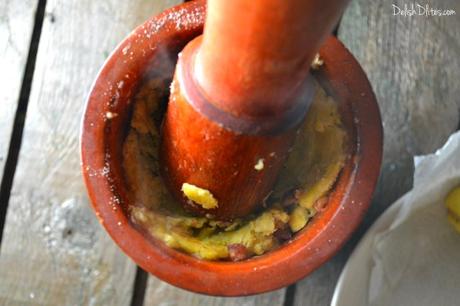 Add a few more plantain pieces and mash again. Taste for salt, if it needs more, add more adobo. Use a spoon to mix the mofongo, then scoop it out onto plate. Repeat with the remaining plantain and bacon until you use all of it up.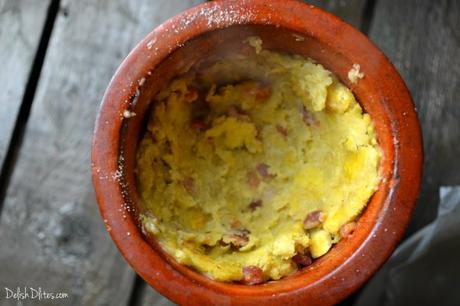 Shape the mofongo into balls, about golf ball size.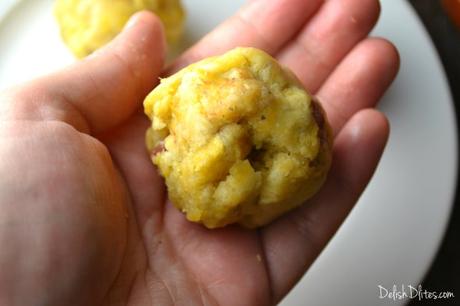 Serve the hot soup with a few mofongo balls, and a sprinkle of chopped cilantro.