These air fryer beef empanadas are so delicious and easy to make! They feature a deliciously spiced beef filling and a store-bought dough. The best part, they only take less than 15 minutes to cook, and they're just as satisfying as the fried version!
Is it just me, or are air fryers the BEST invention in the history of humanity?! Ever since I got my first air fryer a few years ago, I've been obsessed with using it to make healthier version of Latin recipes. Some of my favorite Puerto Rican treats are delicious,...and they're usually deep fried. Even though I love my tostones, I couldn't have them often, until now! I've made so many things in my air fryer, but My Air Fryer Beef Empanadas might be my all time favorite! They are just as delicious as the fried version, but they're healthier, and so easy to make that you can have your kids make them! No hot oil or messy splatters, these are the best empanadas ever!
How To Make Beef Empanada Filling?
My beef empanadas are made with a Cuban Style Picadillo filling. Picadillo is usually made up of chopped up meat (usually ground beef), a tomato sauce base, raisins, green olives, lots of spices. While beef empanada fillings varies from country to country, this is more of a Cuban style. My mom adds chopped hardboiled eggs into her beef filling, and some people add cooked diced potatoes. You can make this dish with ground chicken or turkey if you don't want to use beef.
How Do I Make Empanadas In The Air Fryer?
In order to make these air fryer beef empanadas, you need to use dough that's specifically made for baking. Goya makes a version that I love, but if you can't find that, you can use store-bought or homemade pie dough or puff pastry dough as a substitute and cut them into circles using a cookie cutter. Once you filling and seal the empanadas, they only take about 10 minutes to air fry!
Do You Really Need An Air Fryer?
I'm completed obsessed with my Philips TurboStar Technology Airfryer ( affiliate link). I will admit, I was hesitant to get one because I really don't have room for another gadget in my life, and I figured anything you can make in an air fryer, you can make in the oven. Boy, was I wrong! The pros to using the air fryer it cooks food in about half the time! The air circulation definitely makes things cook a lot faster, and the food always ends up super crispy. It also doesn't heat up your house.
The cons, it's bulky and takes up a lot of space on your counter or pantry. Depending on the size of the air fryer that you get, the basket that holds the food is small, so if you're cooking for a large family , you have to factor that in. But if you want to whip up food in half the time that turns out crispy and delicious, and are ok with a smaller cooking appliance instead of an oven, then I highly recommend getting an air fryer!
Empanadas Recipes You Can Make In An Air Fryer
Check out these other Delish D'Lites recipes for empanadas that you can make in air fryer!
Love this recipe? Show some love by purchasing a sticker to support my work! I'm excited to be one of Google's paid early testers for their Thank with Google pilot program. Thank with Google is an experimental feature that enables my fans to purchase a virtual sticker and directly show their show their support and gratitude for content on my website.
As a loyal supporter, you can now feel more connected and engaged because you have the ability to express yourself and share what my work means to you. What I really love is that my readers get to choose and select from a variety of different stickers. Every time you decide to send a paid sticker, you can add a personal message. And for me, these virtual stickers can translate into direct revenue to support the work that goes into the content that you are enjoying on my blog. You can find the Thank with Google feature at the bottom of my blog post. If you test it out let me know what you think! Thanks for supporting my work. Happy Holidays!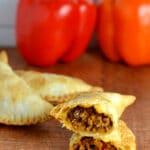 AIR FRYER BEEF EMPANADAS (EMPANADAS DE CARNE)