Billed as the "thinnest and lightest on the market," the tablet Xperia Sony Z is one of the great innovations of the

MWC

in Barcelona.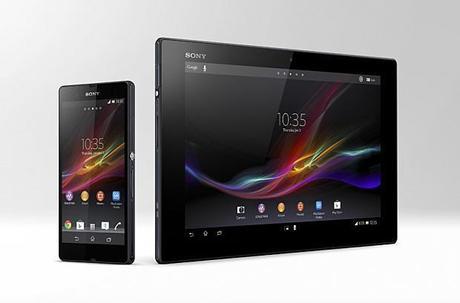 The tablet Xperia Z combines HD 10.1-inch screen, an 8 megapixel sensor and a waterproof only 6.9 mm thick. This is what the Japanese firm announced during a press conference for the opening of the Mobile World Congress in Barcelona. This tablet running Android will be launched in the second half of 2013 in Europe and could help the Japanese manufacturer become a leader in this field.
The characteristics of the tablet Xperia Z
This is the first tablet to feature a Qualcomm Snapdragon processor S4 Pro quad-core. It also has the S-Force Front Surround 3D provides stereo sound to the user, he takes his camera in portrait or landscape mode.Xperia The Z is also compatible NFC. Simply touch another Sony device with the tablet to transfer data or connect. If a user finds a video using the tablet, but want to watch on the big screen, he just tap it against the TV (a Sony last generation) to view this clip big. This tablet can also serve as a remote control for a TV or Sony.
The tablet in the footsteps of smartphone
But the most impressive feature of this tablet is its resistance to water. It would be released unharmed if she were to accidentally fall into a bath, for example, provided that all caches ports are in place. This is a characteristic shared with the tablet smartphone Xperia Z . This elegant 5-inch phone introduced at the Consumer Electronics Show in Las Vegas in January, is available for sale for a few days. Xperia Z The tablet can run only on wi-fi or wi-fi and combining 4GLTE. Finally, thanks to the SD slot, it can offer up to 64GB of internal storage. marketing If no date is specified yet been announced (second half 2013), the first rumors indicate an introductory price to 499 dollars (about 380 euros).