by L.M. Archer, FWS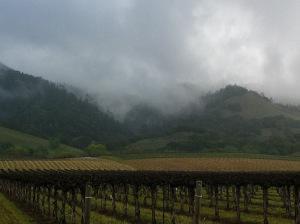 Sonoma – Early Morning
by L.M. Archer, FWS
'root': 1 "the part of a plant that attaches it to the ground or to a support,…conveying water and nourishment to the rest of the plant via numerous branches and fibers…"
2 "the basic cause, source, or origin of something• (roots) family, ethnic, or cultural origins, esp. as the reasons for one's long-standing emotional attachment to a place or community "-New Oxford American Dictionary
In Sonoma, roots run deep. Roots that nourish grape vines, some buried deep in the Sonoma soil for over a century. Vines twisting from the ground like gnarled sculptures, others lacing out across elaborate trellis systems.
Like the vines they tend, Sonoma wine makers draw nourishment from the roots they've planted here – emotional attachments binding them to the terroir.
Some, like Portalupi Winery and Acorn Winery/Alegría Vineyards, draw inspiration from several generations of Sonoma ancestors.
Others, like Davis Family Winery and Valdez Family Winery, transplant to Sonoma, reaping harvests ensured to endure for future generations.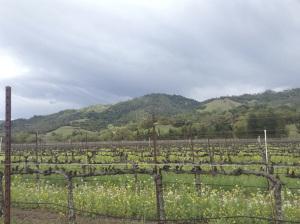 Sonoma vines
I: History
To better understand Sonoma's wine makers of today, it helps to understand Sonoma's past.
Russian fur trappers settled the region in 1812, giving Russian River Valley its name.
In the 1820's, Spanish missionaries came, saw, and planted grapes for sacramental wine, mostly the productive grape Listán Prieto, now better known as Mission.
By the 1830's, the Mexican government came, saw, and secularized the area's missions. California military governor General Mariano Vallejo established the town of Sonoma.
In the 1850's, Hungarian immigrant Agoston Haraszthy purchased a small vineyard northeast of town and named it Buena Vista. Deemed 'The Father of California Viticulture," Haraszthy made a lengthy trip throughout Europe in 1861 to collect grapevines and returned home with cuttings from over 350 varietals.
Despite a phylloxera epidemic in the 1870's, Sonoma vineyards in the 1880's and 1890's thrived, attracting more and more immigrants with Old World vineyard techniques. As in neighboring Napa County, Italian-American families were particularly prominent in the wine industry and many of the oldest vineyards still have Italian names.
However, Prohibition dried up more than booze. Many Sonoma vineyards shriveled on the vine between 1919-1933. Some vineyards eked out a living producing sacramental wine for Catholic churches, which was legal, and others survived by shipping grapes east to home wine makers. But many replanted vines with other crops. Sonoma County became known for its apples.
Reconstruction of the industry after Prohibition was slow, and really didn't speed up until the late 1960's. But the quality of the terroir was apparent, and by the 1980's as Americans began drinking more wine, Sonoma's wine industry boomed.
Today, Sonoma County boasts fifteen wine regions and more than 450 wineries, each with an exceptional story to tell about their roots in the region, some recounted here.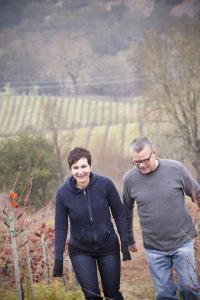 Jane Portalupi and Tim Borges, Portalupi Winery
II – Heritage
Portalupi Winery | www.portalupiwine.com
Like Sonoma's valley roads, Jane Portalupi's and Tim Borges' paths meandered a bit before merging to create Portalupi Winery.  After high school, Jane moved away, married, and started a family while juggling a career in retail design. Tim stayed in Sonoma, married, and started a family while forging a career in the Northern California wine industry.  Eventually, after both found themselves divorced, they reconnected, married and started Portalupi Winery in 2002.
Portalupi Winery represents a joint venture between Jane Portalupi and Tim Borges,  two kindred spirits allied in their desire to craft wines that applaud their heritage.
Belly up to the stylish bar of Portalupi Winery in downtown Healdsburg for a pour of 'Vaso di Marina' and you take a step back in time – the red blend honoring co-owner Jane Portalupi's grandmother Marina, who believed: "Wine is meant to be enjoyed every day."
"Let's just say that Marina was a woman ahead of her times." Jane laughs. The unabashed 'alpha female' of her brood, Marina began making wine as a girl in Italy's Piedmonte region before immigrating to San Jose, California in the early 1900's. Marina and her husband achieved success as merchants in Alviso, in time returning to Italy to live off the fruits of their labors. But the stock market crash of 1929 changed all that. Family in tow, Marina returned to Sonoma to make her second fortune. The milk bottles used for Portalupi's 'Vaso di Marina' offer a nod to Marina's industrious nature in the face of adversity.
Jane and Tim understand a bit about adversity. Through trial and error, they've learned to source fruit from local multi-generational wine growers dedicated to sustainable, bio-dynamic practices, especially their signature varietal Barbera.
Jane inherited more than just her grandmother's perseverance. Jane's father – a physician with an appreciation for Italian sports cars, imbued his daughter with a love of Italian design and artistry, sensibilities she carries into Portalupi Winery through the packaging and tasting room designs.
Meanwhile, Tim Borges also grew up in Arcada, admiring Dr. Portalupi's Italian sports cars while developing a crush on his daughter. Tim's family taught him the art of living off the land, a precursor to Sonoma's burgeoning farm-to-table movement, an art he still practices and shares via the tasting room charcuterie he proffers.
Borges comments: "Sonoma inspires you as a wine maker because we have so many great foods to go with our great wines. We have some of the best artisanal cheese makers in the region, we have game, mushrooms, organic vegetables, not to mention the largest herd of wild boar in the country."
Tim and Jane follow an uncomplicated wine making tenet. "Don't try to make something be something it doesn't want to be. Leave it alone and let it surprise you."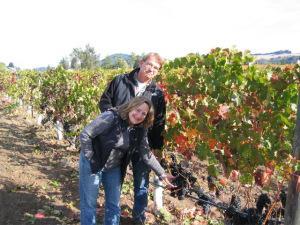 Betsey & Bill Nachbaur, Acorn Winer/Alegria Vineyards
Acorn Winery | Alegría Vineyards | www.acornwinery.com 
Like the acorn from which the winery derives its name, Acorn Winery| Alegría Vineyards started from a small dream that burgeoned.
This Sonoma story goes back a generation, when then-attorney Nachbaur and executive wife Betsy plunked down Bill's partnership buy-out funds on a vineyard in Sonoma's Russian River Valley.
Like Jane Portalupi, Nachbaur hails from local stock. His maternal great-grandparents settled in Windsor in 1868, while his paternal Portuguese grandparents met and married in Pentaluma in the1870's. Nachbaur's Austrian grandfather joined his brothers in Napa Valley in 1896.
When Bill and Betsey Nachbaur settled in the Russian River Valley in the 1990's, they intended to grow grapes and watch the Sonoma sun set. But Bill's Sonoma ancestors got the better of him. At some point, Nachbaur segued from growing grapes to making his own wine.
A student of the vine, Nachbaur's research led him to the centuries-old European practice of field blending. At Alegría Vineyards, he amplified existing field blends, such as Sangiovese installed by former owner Americo Rafanelli next to Canaiolo and Mammola. He mingled Viognier with Syrah, and Cabernet Sauvignon with Petit Verdot and Merlot.  Acorn Winery's Medley blend, a mélange of over 8 different varietals, best reflects Nachbaur's efforts at interweaving terroirs.
For all the Nachbaurs' best intentions, raising field blends isn't always easy. Bill and Betsey have endured losses due to weather, pests, and irrigation issues. But despite the setbacks, the Nachbaurs still believe the benefits of growing grapes and blending wines far outweigh the difficulties.
Nachbaur explains " 'Alegría' means 'happiness' in Spanish. It's how I feel when I'm out in the fields, not stuck behind a desk."  He pauses. " Plus, I love having a physical product that others can enjoy. That makes it all worthwhile."
Despite the complex blending protocols, Nachbaur's approach is simple: Respect the varietals, and respect the land. "Our goal is to leave the land in better shape than we found it. We live in the middle of it, so we want to be careful." This means encouraging biodiversity, weeds, and good insects, while avoiding the use of pesticides.
"The most fascinating thing about wine – the same grape can produce different expressions. Wine is a pure expression of place, " Nachbaur counsels. A place he and his wife honor – past, present and future -  through their wine growing practices.
III: Legacy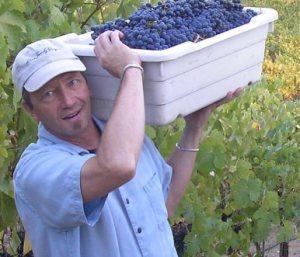 Guy Davis, Davis Family Winery
Davis Family Winery |www.daviswines.com
Guy Davis of Davis Family Winery takes care cultivating relationships. "Sonoma has a strong sense of community, not just between wineries, but between other industries."  Davis contends.
Davis's sons Cole and Cooper and wife Judy assist in all aspects of the family winery.
Davis also collaborates with Zazu Restaurant and Farm (www.zazurestaurant.com) inZazu on the River, an outdoor eating experience adjacent to Davis Family Winery's Tasting Room offering outdoor seating along the Russian River, plus an organic garden and bocce court.
Davis didn't grow up in Sonoma, but ventured there after working his way through business school in Seattle. While in Seattle,  Davis landed a job at a French restaurant, where the owner mentored him in 'the place of wine in the well-lived life.'
After school, Davis's business acumen and passion for wine  guided him towards investment opportunities in the wine industry, opportunities that ultimately provided him the financial freedom to pursue wine making full time.
"Wine brings people together. It's all about creating individual memories for others to take away of this place. I love having a chance to do that. I work 365 days a year, but I don't have a job."
As a wine maker and vineyard owner, Davis has travelled the world learning wine making practices in both northern and southern hemispheres. These different perspectives inform Davis's winemaking, allowing him a greater array of methods available to adjust each vintage, much like a painter's palette with a greater spectrum of colors.
"Artisan wine makers only get one shot a year to get it right. Painters can buy canvas and paint all year long." he notes.
Like many Russian River Valley wine makers, Davis has had his share of  'bad canvas' years, but managed to learn from them and move on.
"Then, too, to make great wine, you have to have the right grape in the right area. Site trumps everything," Davis submits. "Luckily, Sonoma is incredibly diverse. Due to tectonic shifts, you have a variety of soils, unlike Burgundy, where the soils are basically the same. Sonoma also has a range of elevations – anywhere from sea level to 2500 feet. These different microclimates translate to greater layering of flavors, brighter acidity, more complexity."
As a small producer, Davis touches every cluster, vine, barrel, and bottle during harvest, striving to create wines that best express the year, season, varietal, and terroir.
Davis farms organically, but doesn't feel the need to shout about it. "The best thing you can put in the vineyard is your shadow," he avers.  "It just makes good business sense. Healthy vines make healthy wine. The more natural the approach, the better the wine."
Davis exemplifies the spirit of many Sonoma wine makers – 90% of which are family owned – wine makers dedicated to preserving a lasting legacy for their families.
Davis remarks:  "Everyone here is interested not just in the success of Sonoma, but in the next generation – doing the right thing for the next generation, leaving the planet better for the next generation. This informs our decision making in the present – how it impacts the future."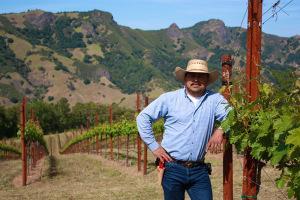 Ulizes Valdez, Valdez Family Winery
Valdez Family Winery | www.valdezfamilywinery.com
"They say the vines have to suffer to produce great wine," says Sean Tevik, Valdez Family Winery Director of Operations.  "Ulises is like those vines."
Tevik is discussing his boss, Ulises Valdez. Valdez arrived to Sonoma in 1985 as an undocumented worker, intent on working in the vineyards beside his older brother Nicolas. At age sixteen, he'd already endured the loss of his father nine years earlier, and spent the ensuing years laboring to help support his widowed mother.
Valdez's success story depends on luck as well as opportunity. First, Jack Florence Jr. of Dry Creek Valley immediately recognized Valdez's extraordinary work ethic, as well as his 'two green thumbs,' and hired him.
Next, Congress passing the Immigration Reform and Control Act in 1986. By 1996, Valdez moved from undocumented to legal temporary resident to permanent resident to American citizen.
Lastly, shortly after amnesty, Valdez offered Jack Florence a deal he could not refuse: Valdez would work for free for Florence in 1986; in exchange, Florence would make Valdez a partner in Florence Vineyard Management company. The partnership flourished through 2003, when Valdez bought Florence's interest, renaming the company Valdez & Sons Vineyard Management Company.
Valdez follows one basic principle in both wine growing and wine making: "Hands on in the vineyards, hands off in the winery." Like a jazz musician – Valdez riffs on whatever the vine needs, with minimal intervention.
Today, Valdez & Sons Vineyard Management Company oversees approximately 1,000 acres of prime Sonoma vineyards, sourcing grapes to many of the area's most elite wine makers like Paul Hobbs and Mark Aubert. In addition, Valdez crafts his own wines at Valdez Family Winery, some served at White House galas.
Valdez's success centers around the touchstone of his family. Wife Adelina assists with bookkeeping, twenty-something daughters Elizabeth and Angelica contribute to the new Tasting Room in downtown Healdsburg, and teenage sons Ulises Jr and Ricardo, assist their father at Valdez & Sons Vineyard Management Company.
Valdez embodies then not only the quintessential American dream, but also the prototypical Sonoma wine grower: grounded, family oriented, and dedicated to his craft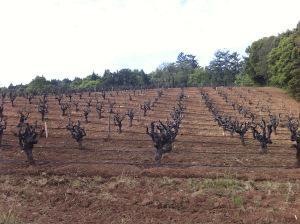 Sonoma – Old Vines
IV. Homage
Sonoma wine makers endure like the region's ancient vines, nourished by the roots that ground them deeply to their community.
Tom Borges of Portalupi sums it up: "Sonoma is all about family. We don't have a lot a lot of big wineries. Most are small, family owned and family run wineries. We're supportive of one another here, not competitive. Everyone wants everyone else to succeed."
Borges concludes, "There's a harmony of old and new that integrates well together here in Sonoma, " adding: "There's a respect for the old by the new generation of wine makers. The new wine makers want to embrace and nurture the old ways, but strive to improve. The bar's too high in Sonoma. If you're average, you're not going to make it here."
☂☂☂
Copyrighted 2013. All Rights Reserved. All images courtesy of the author. Please ask permission of and provide attribution to the author before publishing images. 
Follow binNotes: Facebook    Twitter    Pinterest     Blog
Acknowledgments:
Many thanks to the wine makers who generously shared their stories:
Betsy and Bill Nachbaur – Acorn Winery/Alegría Vineyards | www.acornwinery.com
Guy Davis and Adrienne Donnelly – Davis Family Vineyards | www.daviswines.com
Jane and Tim Portalupi – Portalupi Winery | www.portalupiwine.com
Sean Tevik – Valdez Family Winery | www.valdezfamilywinery.com
Thanks also to:
Tracy Logan, Wine Road Northern Sonoma County | www.wineroad.com
Lucy Lewand, Camellia Inn – Healdsburg, CA | www.camelliainn.com
Note: Regrets to the fine folks in Sonoma – non-writing work  commitments and unexpected editor change-ups left this piece dangling far longer than originally promised. Thanks for your patience.