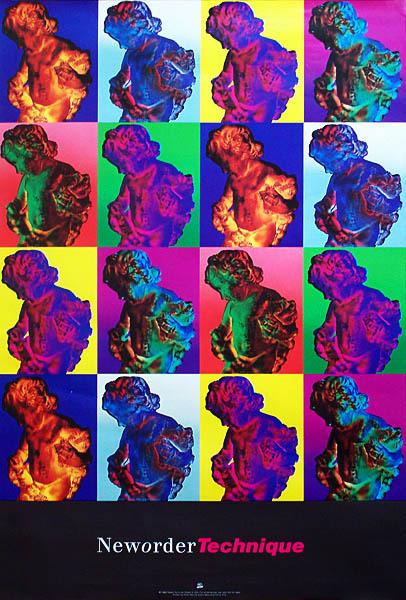 "Nothing in this world could touch the music that I heard, when I woke up this morning" Dream Attack, New Order
I woke up to New Order's Technique album for the best part of two years. Sometimes it was the actual music itself I used as a prop to kick start my (school) day, but mostly it was by staring through glazed eyes at the floor-to-ceiling length fly poster – depicting a cherubic Roman/Grecian figure bathed in a medley of stunning colours – that took pride of place on my bedroom wall. It's an album that still resonates strongly with me today, effortlessly able to remind me of the injection of untamed excitement I felt on first listen each time I hear the electro beeps of opener Fine Time.
By 1988 New Order had already assured their legacy. From Joy Division through to the retrospective collection, Substance, New Order had become one, if not the, most influential bands of their generation and with The Smiths recently departed from the Indie scene the group stood unchallenged as the kings of the alternative music scene in the UK. The band had barely put a foot wrong since the release in 1982 of the single Temptation, a track heavily-influenced by the New York club scene of the day. And it was that constant meshing of dance, electro and traditional guitar-drum-bass that gave the band its compelling and unique sound over the coming years.
They were the band the cool kids followed, which was slightly ironic as by 1989 the band themselves resembled a motley collection of comprehensive school teachers. Bernard Sumner – the front man by process of elimination after being shunted to center stage after the untimely death of Joy Division lead singer Ian Curtis – performed a dance when the band played live that made him look like a drama school teacher demonstrating improv. The married couple of Gillian Gilbert and Stephen Morris had always looked as though they would prefer a night in front of the TV watching Coronation Street while marking English essay papers than playing another sold out show at the G-Mex. And as for Hooky, as plainly mad as he once was, his trademark beard and wild hair still gave him the appearance of a slightly gnarled geology teacher. Forget appearances though, it was only ever about the music with New Order.
With the release of said compilation album in 1987 (typically this being New Order all mention of the words 'Greatest' and 'Hits' were omitted and all tracks were in fact 12" versions of their singles) plus the emergence of acid house and a new crop of young Mancunian bands surfacing on the horizon there was much pressure on New Order to stay ahead of the game and remain relevant. Add in ongoing band tensions, drug and alcohol abuse plus Bernard Sumner's messy divorce and it would be easy for the band to exit stage left and leave it to a host of (pale) imitators to try and carry the torch. For a band that had come through the loss of their iconic lead singer at such an early age growing old gracefully was never likely to be on the cards. The band decided to plonk themselves down on the island of Ibiza through the ecstasy-drenched second summer of love in 1988 and the result was Technique, an album laced with acid house and infused with indie pop rock and dance. It sounded completely unlike anything else that had gone before and nothing that has come along since. Yet at the heart of it Technique somehow never escapes that reassuring feel of a New Order song.
From the infectious pure dance grooves of Fine Time and Vanishing Point through to the melancholic pop of Run and Dream Attack it's an album that glides effortlessly from pumped up bonkers beats one minute to sombre and reflective melodies the next. It's the sound of a band completely on top of their game and they were only ever coming down the other side of the mountain after its release (yes, even World in Motion couldn't top this…). From my own perspective it was the first purchase in my own Year Zero of music worship – 1989. This was the year when my relationship with music moved from growing interest to fully fledged irreversible obsession and while The Stone Roses, De La Soul and Pixies arguably released better albums that year it's Technique that I still listen to the most regularly today. My favorite album by my all time favorite band. A song to save your life.