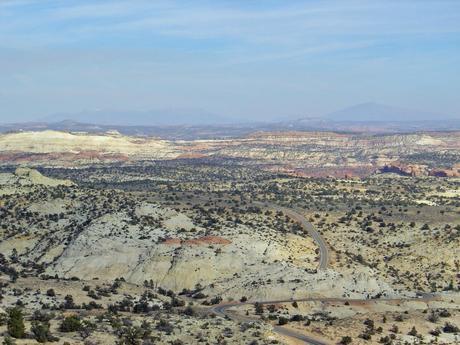 A classic roadtrip is something that grows organically. The beginning and end are all taken care of, but everything in between is up for grabs. You may have an intended destination at the start of each day's drive, but that's often just a distant memory by evening as you find yourself following signposts for places titled Liberty and Broken Bow just because, well, just because you can and what better reason is there than that? This is the open road after all; no rules apply.
On previous American roadtrips Kim and I would drive all day if we pleased and more often that not bowl up at the midnight hour in outer Nowheresville to rest for the night. Throw in two young children to the mix, however, and suddenly the no rules theory seems a touch hedonistic if not downright idiotic. Itineraries now require careful planning to alleviate travel boredom in the young while potential accommodation needs investigating to prevent stumbling upon motels masquerading as hangouts for America's dispossessed (I'm still scarred by one particular motel stop just off I-85 near Greenville, South Carolina).
Here are the ground rules so far:
Don't go back
We're not looking to cover old ground here. This means the Grand Canyon, Monument Valley, Death Valley, Los Angeles and the national parks of Utah are all out.
Or perhaps they aren't…
As we'll be circling the Grand Canyon it's tempting to drop by just for the children to see. Although am I really expecting a 5-year old boy to take a look at the sweeping majesty before him and exclaim; "That's some mighty impressive rock erosion right there"? No, he's more likely to want to try and hurl himself over the side, which is way easier than you'd imagine for something with an average depth of 4000ft. (I know a steel monstrosity all along the rim to protect careless people may be an eyesore and environmentally unsound, but I'm English for god's sake. I demand safety railings on anything with a depth greater than two steps.)
Time permitting we'll probably head to the rim at some point. It will seem a bit crazy not to. And it also means I'll probably get to see Monument Valley again.
What's there to do for children?
So far any place I casually suggest we visit is met with the above question. Frustratingly, not a lot appears to be the recurring answer.
Not wishing to have a mutiny on my hands I'm making sure we'll be passing plenty of places that will keep children entertained. These include theme park visits (Las Vegas, Disneyland California,  Six Flags over Texas) wildlife adventures (not too adventurous hopefully, but traveling through America usually provides plenty of opportunities for wildlife spotting), epic train rides (Durango & Silverton Railroad) and the many natural wonders that you don't tend to come across in the Home Counties (canyons, caverns, mountains, buttes, waterfalls, deserts).
There will of course also be endless opportunities to pig out on the amazing array of sugary 'treats' the USA is so blessed to contain. In a weird way I'm quite looking forward to seeing my children's faces when they first encounter the whole Supersize Me culture. I'm also a little worried about what might come out of their mouths when they see some of the tremendous bloaters they're undoubtedly going to come across.
You can't fit everything in (although I'll give it a good go)
I perhaps need to contain my wanderlust (kind way of saying 'obsession') for trying to visit everything and anything I read about.
For instance do I really need to visit Yuma, Arizona? Logic says no, especially as it's stuck all the way down in the southwest corner of the state and we have no reason to pass that way. Temperatures reach a mind-boggling average of 107 degrees Fahrenheit in summer while the Rough Guide states that the town is unattractive and insignificant. If it wasn't for the tremendous film 3:10 to Yuma (both the 1957 original and 2007 remake) I'd not give it a second thought. But can I really risk not taking a look around? I'll have to play this one by ear, but I know it will nag at me forever if I don't make it.
One place that does make the cut is Bisbee; a town also featured in the 3:10 to Yuma, once a thriving mining town and now one of the best preserved Victorian towns in the country. It's also home to the Old Bisbee Brewing Co. http://www.oldbisbeebrewingcompany.com/ which pretty much seals the deal.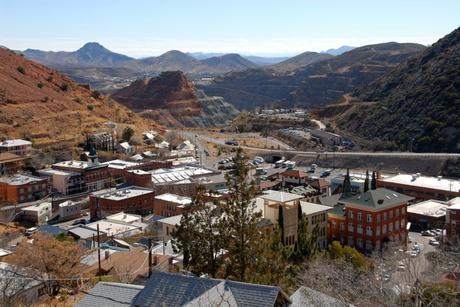 Another current obsession is ghost towns. The American West is littered with them http://www.ghosttowngallery.com/ Many appear to be in remote locations that require special effort to reach so not something you can casually chance upon. Being ghost towns there's probably not a lot going on either. I may be fortunate to squeeze in more than a couple.
The Old West. Not up for discussion. Towns such as Tombstone, Dodge City Lincoln, Santa Fe and San Antonio are all on the list. Following in the footsteps of Wild West legends Billy the Kid, Wyatt Earp and Doc Holliday is an opportunity I can't pass up. Stagecoach rides and gunfight re-enactments should provide enough entertainment to keep everyone on side. Hanging around in saloons and former bordellos might be pushing it though.
Some suggestions may need a little extra work though…
Me: Shall we visit the Titan Missile Museum?
Family: What is it?
Me: A place under the ground where they used to keep nuclear weapons.
Family: What's there to see?
Me: An old missile.
Family: No.
I'll file that one under 'maybe' for now.