I am so in love with Elora Ramirez's Somewhere Between Water and Sky.  It's a gorgeous book in a beautiful series and I'm super excited to share it with y'all. Check out the release day launch and Elora's super special giveaway – and on Wednesday, you'll get to read my review of this excellent book.
Other Blogs Taking Part in the Release Day Launch
Amaterasu Reads; Bittersweet Book Love; The Phantom Paragrapher
Ficwishes; Born To Read; Pieces of Whimsy
Coffee Books & Art; Roxy's Reviews; Fantasy&Education
Holly's Red Hot Reviews; Remember the Books; My Book Empire
Musings of the Book-a-holic Fairies, inc.; Beth Morey: Writing Through the Dark
A jacket for all seasons; Cafebiblioart; Miah Oren
My Favorite Things; In Between The Lines; Books and Motherhood
I Heart YA books; I Read Indie; Once Upon a Twilight
Addicted Souls; Once Upon An Alpha; Short and Sassy Book Blurbs
Gaga Over Books; DramaticElegance; A Dream Within A Dream
Cruising Susan Book Reviews; This girl loves books; Resch Reads and Reviews
grownupfangirl; Hooked On Books Forever; 101 Ways to Make Love to a Spoon
Adventures in Writing; Southern Belle Book Blog; those naughty girls book club
Red Hot + Blue Reads; LuLo Fangirl; My Favorite Things
Within Pages; Lita's Book Blog; A Thousand Lives Lived
Barbara Book Review; Breaking Books; Between The Lines
Bookbesties; Short and Sassy Book Blurbs; Coffee Books & Art
The Phantom Paragrapher; Talking Books Blog; Literary Meanderings
In Between the Pages; Gabic Reads; Born To Read
undercover book reviews; A Paie of Okies; Tissues and Tomes Book Blog
Broadway Girl Book Reviews; YA Sisterhood; Falling in Fall Book Blog
Somewhere Between Water and Sky
I heard it said once that every human is a story with skin.
If this is true, paragraphs would be etched in the scars on my wrists.
Whole chapters could be written about the way my heart pounds when I startle awake.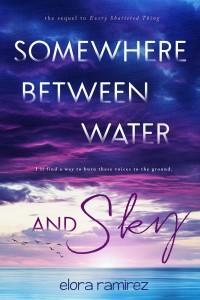 And every single one of my tears could fill a book.
But stories, with all their promise, only leave room for disappointment. I don't have room for that anymore. I left it all—the hope, the love, the promise—back in my old life with the ghosts I'd rather forget: Jude. Emma. Pacey.
This is how I dare to move forward and to believe in a new beginning. I let go of the old. I just grab the new and run. I don't wait around anymore. I can't.
Waiting leaves room for the voices.
Somewhere between water and sky, I'll find a way to burn these voices to the ground.
Amazon | Barnes and Noble | Somewhere Between Water and Sky Goodreads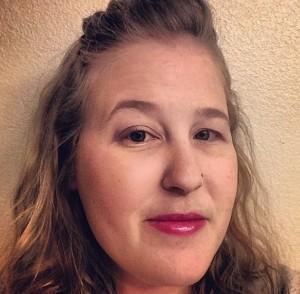 Elora Ramirez lives in Austin, Texas with her chef-husband. At the age of four, she taught herself how to read and write, cutting her teeth on books like Dr. Seuss and writing anywhere she could find the space–including her Fisher Price kitchen set, the pages of picture books and Highlights Magazine. Since then, she's grown to love the way words feel as they swell within her bones. Writing holy and broken is her calling, and pushing back the darkness and pursuing beauty through story is her purpose. She embraces the power of story and teaches women from all parts of the world how to embrace theirs. She has a knack of calling things out , the truth and the detail, the subversive threads that make a life a story. She loves hip-hop, wishes she lived by the beach and cannot write without copious amounts of coffee, chocolate, music, and her husband's lavender liqueur.
Blog | Facebook | Twitter | Author Goodreads
Enter Elora's fantastic giveaway here, and don't forget to come back on Wednesday for my review of the book!
About these ads