I was lucky enough to get to read Elora Ramirez's new book, Somewhere Between Water and Sky, prior to its release last week.  As promised when I helped promote the book launch last week, below is my review.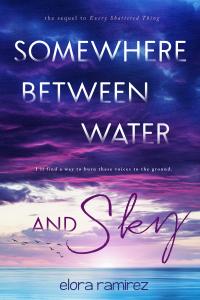 When I read Every Shattered Thing, I finished it in one sitting.  Stayed up late into the night, poring over the book and clutching Stephanie Tiller to my chest.
With Somewhere Between Water and Sky, it was very much the same.  I was thrilled for the return of Stephanie and some of the original characters, and immediately fell in love with both Jessa and Ren, Stephanie's new friends in Los Angeles.  This book was absolutely  as excellent as the first, and Ramirez did a beautiful job of continuing Stephanie's story.
The thing I enjoy most about this book (about both books in the series, to be honest), is the way they challenge me.  Stephanie's story stretches my heart and asks me to confront things that are scary to me, but the end result is so, so good.  When you read this book, you will experience a range of emotions, from anger to joy, and it's so gorgeous.  I wish I had a better vocabulary with which to describe it.  How many times can you say gorgeous, beautiful, heartbreaking, etc. without it sounding redundant?
I think one of the things that is so wonderful about the way Ramirez writes is that it feel like the character is in front of you, telling your story. At the very least, you will fall even more in love with Stephanie.  More likely, you will carry her story in your heart and go through grief and growth with her.
Ramirez's writing is beautiful and heartbreaking, and I hope you take the time to read these books.  They hold a story so many of us need.